School is officially in session and just as kids may stomp their feet in protest all the way to the bus stop, so, too, might moms and dads as they face another daunting year of keeping their little learners full and healthy. As you think of the new school year and wonder how you'll be able to do it all, look to Food Network's Back-to-School Headquarters to help you make the grade. Each week in September FN Dish will share can-do weeknight meals, easy lunchbox picks, after-school snack strategies and more from our best collection of recipes and tips.
This week we're kicking off the new school year with a classroom party of sorts. We've once again partnered with family and friends to host a Communal Table in celebration of all things back-to-school. In this virtual recipe swap, we're exchanging a mix of kid- and adult-friendly meal ideas, lunchbox must-haves and more.
We've decided to bring Food Network Kitchens' Cheddar BBQ Meatloaf Muffins (pictured right) to the table. This double-duty dinner transitions perfectly from weeknight supper to next-day lunch, and features an unexpected twist of flavor, thanks to one secret ingredient: barbecue sauce. According to the Kitchens, these moist and tangy meatloaves are "a cross between a meatball and a mini meatloaf," so you can be sure that their creative shape and classic ingredients will appeal to kids and grownups alike. Since they're made in individual portions, freezing the meatloaves or packing them in tomorrow's lunch becomes a breeze. Round out the lunchbox with the rest of last night's leftovers or your child's favorite fresh fruit and veggies for a timesaving meal that will be the envy of the lunch room.
See what our friends are bringing to the table and tell us on Twitter what you would bring to the table by using the hashtag: #pullupachair.
Food.com: Peanut Butter and Jelly Sushi Rolls
FoxNews.com: Sunflower Seed Butter and Apple Butter Pancake Sandwich
Eatocracy: Broke College Student Buffet
The Daily Meal: Bacon Cheesy Whole-Wheat Pita Pockets
Adult options:
YumSugar: Fully-Loaded Turkey Club Sandwich
Liquor.com: Back to (Cocktail) School
Food52: Pan Bagnat: Le French Tuna Salad Sandwich
Yahoo! Shine: Avocado Quinoa Salad
Big Girls Small Kitchen: Swiss Chard Turnovers With Parmesan and Pistachios
Healthy Eats: Mini Pan Quinoa Rice Stuffed Mushrooms
Cooking Channel: Lunch Recipes Your Coworkers Will Try to Steal
Feed Me Phoebe: Deviled Egg Salad Sandwiches
More posts from Maria Russo.
Similar Posts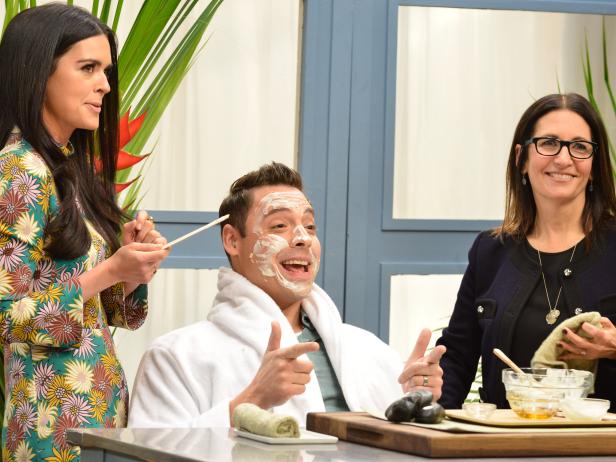 You don't have to travel somewhere exotic to make the most of your time off....