This summer, Food Network's Grilling Central is packed with recipes for the entire family's taste buds, boasting the best in burgers, dogs, chicken and more all season long. But with so many recipes, where do you start? Each Saturday, FN Dish is giving you a complete menu that is stress-free, and this weekend's menu is topped off with ice-cold pitchers of your favorite summertime drinks.
Whether hosting a large-scale holiday gathering, a backyard bash with friends or a casual cookout for family, the last thing you want to do is get stuck in the kitchen cooking while your guests are mingling and enjoying the party elsewhere. The same holds true for mixing drinks — who wants to play bartender all night when you could join in the celebration and raise a glass with your company? Avoid the need to take individual drink orders by mixing up big-batch recipes of crowd-pleasing pitchers to which your guests can simply help themselves.
Pictured above is Guy's Raspberry Picante Paloma Pitcher from Food Network Magazine, which features a secret, slightly spicy ingredient: jalapeño pepper. To prepare, he muddles the pepper with sweet raspberries, tops the concoction with tequila and grapefruit juice and finishes it with a squeeze of lime. Guy takes his drink one step further by rimming each glass with grapefruit salt, made with a simple pairing of kosher salt and grapefruit zest. This recipe yields an impressive two quarts of cocktails, enough to serve up to six people and keep your party going well into the night.
When your guest list includes young party-goers, reach for pitchers of non-alcoholic lemonade and iced tea that will satisfy kids' tastes but wow grownups as well. With a bit of bite from fresh grated ginger, this Peach-Ginger Iced Tea (pictured left) from Food Network Magazine is made with English breakfast tea, a bold, full-flavored blend that balances the mild peaches. Similarly, Food Network Magazine's bright Blackberry Lemonade is mixed with just a handful of ingredients and boasts two whole cups of juicy blackberries.
Sangria is another no-fail winner, with its light, fresh flavor and abundance of sweet fruit. Made with an entire bottle of white wine, a splash of rum and summertime nectarines and plums, Food Network Magazine's White Sangria is easy to drink and deliciously refreshing. Flip through our crave-worthy gallery of Food Network's favorite sangria recipes.
If tall, blended glasses are more your style, try Tyler's 10-minute Mojito Slushy (pictured right). He combines fresh lime juice, mint leaves and rum to create a five-star sipper that is smooth and frosty. Bobby's Vodka Grape Sparkler boasts a mixture of grapes, clover honey and lemon juice that's blended and topped with vodka. He recommends refrigerating the pitcher for at least one hour before serving, so that the flavors of the cocktail can marry and take on the bright grape taste.
Appetizer: Margarita Chicken Skewers
Main Dish: Steak With Olive Salsa
Side Dish: Artichoke and Tomato Panzanella
Dessert: Neapolitan Ice Cream Sandwiches
Cocktail: Raspberry Picante Paloma Pitchers
Planning on making one of these dishes? Snap a photo and post it on Food Network's Facebook wall.
More posts from Maria Russo.
Similar Posts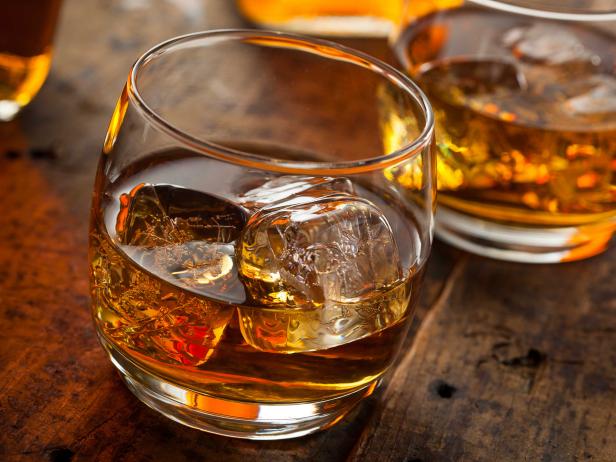 Did you ever wonder why alcohol content is measured in "proof" — and why that number differs from alcohol by volume, or ABV?...