We're teaming up with food and garden bloggers and our friends at HGTV Gardens to host Summer Fest 2012, a season-long garden party. In coming weeks, we'll feature favorite garden-to-table recipes and tips to help you enjoy the bounty, whether you're harvesting your own goodies or buying them fresh from the market. Today we're exploring peaches.
It's August? Uh, when did that happen? We may still be sweating, but it's back to the daily grind we go — back to the soccer practices, school buses and other non-summer activities. But before we peel out of the driveway and embark on our inaugural back-to-school shopping journeys, there's something to be said for enjoying August for what it is, rather than that awkward gap between summer bliss and getting back to the grind.
If you ask me, August means one thing: peaches. It means soaking up these last lovely moments of summer with a juicy peach at the peak of ripeness. Now, as the velvet-clad orbs hang from the limbs of Georgia trees, there's no better time to bring a few home.
With peach iced tea, peach pie and peach cobbler ranking high on the fruit's roster, it's no surprise that the bulk of peachy dishes tag along to the fruit's sweetness. Well, this August, we're all about bringing peaches to the dinner table because, trust me, peaches aren't just made for dessert.
It turns out that this stone fruit makes for a stellar meal. Start out with Food Network Magazine's Tomato-Peach Salad and embrace the fruit in its raw form with just a little red onion, a simple vinaigrette, salt and pepper. Watch out, tomato — grilled peaches turn out to be a pretty stellar salad topper, with Food Network Magazine's Spinach Salad With Grilled Peaches (and bacon) as inarguable proof. What's next? Sunny Anderson's Roasted Turkey Breast With Peach Rosemary Glaze (pictured above). Sunny may use frozen peaches for her brown sugary glaze, but it surely wasn't August when she stuck hers in the oven. Looking for more? Rosemary-Mustard Pork With Peaches by Food Network Magazine also brings ripe peaches to the table, transforming the raw fruit into a tender, honeyed side.
For lunch, zip a Bacon, Peach and Arugula Sandwich in a baggie for a unique midday meal. And after all of this savory fare, wash it down with Ellie Krieger's wholesome Peach Pie Smoothie for some of that quintessential sweet peach goodness.
As if you needed another reason to wish the month of August would just stand still.
What's your favorite peach recipe? Share it with us in the comments below.
More peach recipes from family and friends:
Jeanette's Healthy Living: Peach Blackberry Arugula Salad
Cooking With Elise: Streusel Topped Peach Muffins With Peach Butter
Heather Christo Cooks: Peach Coconut Pancakes
Ingredients, Inc: Easy Peach Pie
From My Corner of Saratoga: Grilled Peaches With Caramel-Ginger Sauce and Pound Cake
Dishin & Dishes: Peach Lacquered Chicken Salad
Big Girls Small Kitchen: Easy Peach Limeade
Napa Farmhouse 1885: Fresh Peach and Coconut Cake
Daily*Dishin: Caramelized Grilled Peaches
Delicious Lean: Smokey Peach Chipotle Grilled Chicken
Thursday Night Dinner: Peach Shortbread
Sweet Life Bake: Jicama Tortilla Salad With Peach Dressing
I Am Baker: Cilantro Peach Salsa
Zaika Zabardast: Donut Peach Quesadilla
And Love It Too: Peachy Coconut Streusel Muffins
Daydreamer Desserts: White Peach Margaritas
Cooking Channel: 4 Savory Uses for Peaches
Healthy Eats: What to do With Overripe Peaches
More posts from Allison Milam.
Similar Posts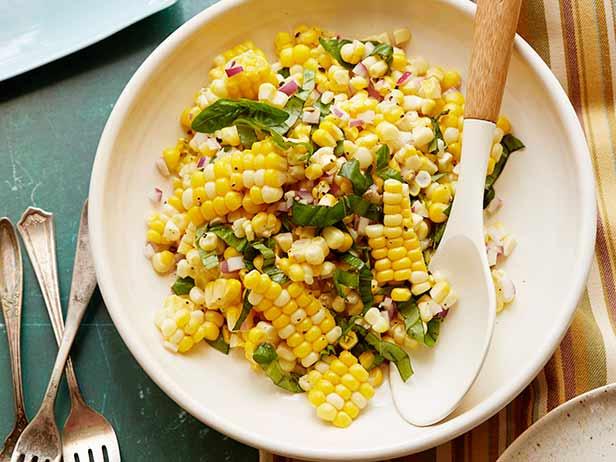 Think beyond the usual presentation of corn with butter and salt....