We're teaming up with food and garden bloggers and our friends at HGTV Gardens to host Summer Fest 2012, a season-long garden party. In coming weeks, we'll feature favorite garden-to-table recipes and tips to help you enjoy the bounty, whether you're harvesting your own goodies or buying them fresh from the market. Today we're exploring melons.
Picture this: You're strolling through the produce section and the melon selection is juicier than ever. They're so sweet and juicy, in fact, that they deserve a little more than a simple slice.
As you know, "melon" is an umbrella term, bringing to mind all of our thick-skinned, juicy-on-the-inside favorites, be it watermelon, cantaloupe or honeydew. Of course, nibbling unadulterated watermelon to the rind, wrapping cantaloupe in prosciutto and balling honeydew into a summer fruit salad are tried and true, but keep in mind that there's more to melon at this time of year. Go for preparations that are entirely unexpected.
If you plan on growing your own melons, be sure to check out HGTV Gardens for great tips like watering your melons well in the beginning of the plants' life, but backing off to minimal watering after the majority of the fruit is set. It'll produce a sweeter meat in your melons.
Let's start with the summery watermelon. Whether you're spitting out the seeds or going the seedless route, there are a slew of ways to take the fruit from a one-dimensional slice to a thoughtful concoction. How? Begin by integrating cubes of fresh watermelon into dishes like this replenishing Watermelon-Feta Salad by Food Network Magazine that counters the salt of the cheese with the fruity sweetness. Or if you're looking for something with a bit more crunch, combine it with cucumbers, cashews and goat cheese for Food Network Magazine's Watermelon-Cucumber Salad. And it doesn't stop with salads. Next time you whip up fish tacos, swap the standard tomato-based pico de gallo with a watermelon salsa, a la Food Network Magazine's Fish Tacos With Watermelon Salsa recipe. And who knew watermelon could make a mean soup? Take Tyler Florence's Watermelon Gazpacho as a prime example. It blends together with tomato, serrano chile, red onion and cukes for a chilled, silky and melon-imbued soup.
But watermelon's not the only melon around that makes a killer soup — and then some. Alex Guarnaschelli's sweet Cantaloupe Soup proves a solid way to put juicy cantaloupes to use by blending with lemon and sparkling cider. And if you're looking for a fruit salad that goes beyond the norm, look to basil for an unexpected, herby spin with a Watermelon and Cantaloupe Salad With Mint and Basil Vinaigrette by Giada De Laurentiis.
And for the honeydew lovers among us, unite cubes of the green melon with spicy greens for a Honeydew and Arugula Salad by Food Network Magazine.
With melons so wonderfully in-season, it's about time we go big with our preparations. Slice it, cube it, puree it — there's never been a better time.
What's your favorite melon recipe? Share it with us in the comments below.
More melon recipes from family and friends:
Jeanette's Healthy Living: Watermelon-Mint Freeze
What's Gaby Cooking: Melon and Prosciutto Salad
Cooking With Elise: Quinoa Crunch With Melons, Blueberries and Yogurt
Haute Apple Pie: Watermelon and Feta Salad
Cooking Channel: Five Things to Make With Watermelon
Healthy Eats: Melon Refreshers
Ingredients, Inc.: Melon-Arugula Salad
Daily*Dishin: Honeydew Melon Salad With Genoa Salami and Mozzarella Fresca
Made by Michelle: Cantaloupe Popsicles
Chez Us: Cantaloupe Lime Agua Fresca
Napa Farmhouse 1885: Mixed Melon Smoothie
Virtually Homemade: Melon-Mint Popsicles
Thursday Night Dinner: Cantaloupe With Figs, Basil and Kalamata Olives
Zaika Zabardast: Cantaloupe Soup With Cardamom Infused Cherry Syrup
Sweet Life Bake: Paletas de Melon
HGTV Gardens: Garden-to-Table: Melons
More posts from Allison Milam.
Similar Posts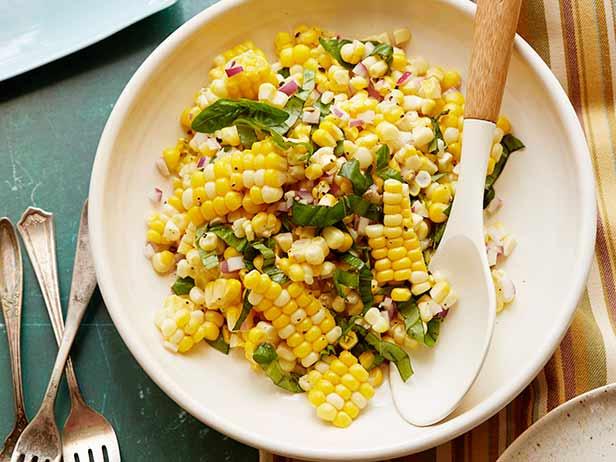 Think beyond the usual presentation of corn with butter and salt....