We're teaming up with food and garden bloggers and our friends at HGTV Gardens to host Summer Fest 2012, a season-long garden party. In coming weeks, we'll feature favorite garden-to-table recipes and tips to help you enjoy the bounty, whether you're harvesting your own goodies or buying them fresh from the market. Today we're exploring peppers.
Late summer means the arrival of sweet, colorful peppers. Ranging from green to red to yellow to orange and purple, they are refreshingly crunchy when raw and wonderfully tender when cooked. And, they pair particularly well with meat, whether grilled, tossed with pasta or stuffed.
If you plan on planting your very own pepper patch, be sure to check out HGTV Gardens for great tips like letting the pepper plants dry after each watering to avoid soil fungi. Before you get cooking, be sure to choose firm, richly colored peppers, avoiding those that are limp and shriveled. Store them in a refrigerator for up to one week.
If you're in possession of a grill, look no further than Food Network Magazine's Sausage-and-Pepper Skewers (pictured above) and Sunny's Steak Fajitas With Chimichurri and Drunken Peppers. They're definite crowd-pleasers. If you're looking for a little challenge, try Bobby's hearty Grilled Pizza With Hot Sausage, Grilled Peppers and Onions and Oregano Ricotta. Better yet, get your guests involved in the pizza-making process.
For an easy weeknight meal, whip up Food Network Magazine's Pasta Salad With Steak, Bell Pepper, Green Beans and Bacon. It can be eaten hot or cold and makes for delicious leftovers. Or try Giada's Orzo With Sausage, Peppers and Tomatoes. Topped with a healthy sprinkling of ricotta salata, it's packed with summer flavors.
Don't forget to stuff your peppers. Meat and grains make for an especially fitting stuffing, whether it's brown rice, quinoa and andouille sausage; orzo, white rice and meatballs; or white rice and veal. Try Food Network Magazine's Cajun Stuffed Peppers or Rachael's Stuffed Peppers With Broken Meatballs and Rice. Either way, you'll have a fine, well-rounded meal bursting with the sweetness of summer peppers.
What's your favorite pepper recipe? Share it with us in the comments below.
More pepper recipes from family and friends:
Jeanette's Healthy Living: Stuffed Peppers With Quinoa Grilled Vegetables and Pesto Sauce
Cooking With Elise: Roasted Red Pepper Hummus
What's Gaby Cooking: Oven-Roasted Peppers With Herbed Breadcrumbs
And Love It Too: Roasted Red Pepper Paleo Hummus
Feed Me Phoebe: Grilled Flank Steak With Gazpacho Sauce
Big Girls Small Kitchen: Seared Pepper Tacos With Pintos and Avocado Crema
Delicious Lean: Peppery Kung Pao
Daily*Dishin: Shrimp and Chorizo With Red Pepper Chermoula Sauce
Napa Farmhouse 1885: Spicy Roasted Red Pepper Dip With Baked Corn Tortillas
Thursday Night Dinner: Black Bean and Sweet Pepper Salad
Cooking Channel: 5 Stuffed Pepper Favorites
HGTV Gardens: Garden to Table: Peppers
Sweet Life Bake: Rajas de Poblano con Elote y Crema
Zaika Zabardast: Peanut Pepper Stir-fry
Dishin & Dishes: Bacon, Onion and Green Chile "Jam"
Healthy Eats: Peppers for Breakfast, Lunch and Dinner
More posts from Laura Loesch-Quintin.
Similar Posts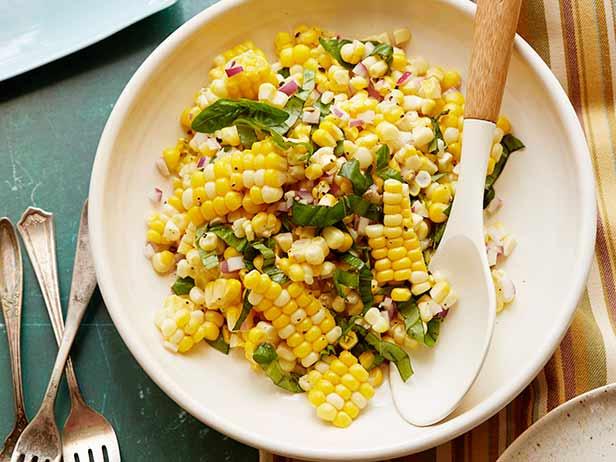 Think beyond the usual presentation of corn with butter and salt....