We're teaming up with food and garden bloggers and our friends at HGTV Gardens to host Summer Fest 2012, a season-long garden party. In coming weeks, we'll feature favorite garden-to-table recipes and tips to help you enjoy the bounty, whether you're harvesting your own goodies or buying them fresh from the market. Today we're exploring eggplants.
As far as produce goes, eggplant stands out as one of the few items that can truly carry a meal. I mean, think about it. When dinnertime rolls around, who's really down for an entire entrée of green beans, carrots or onions? Not me. Eggplant, on the other hand, is meaty and versatile, so there's no need to give it side dish-only status. Once the slick skin is slid off and it's all sliced up, it just takes the right addition of heat to take it from its raw, bitter form to supple and slightly sweet.
Now that eggplant is in season, this is the time to give it a headliner position on your dinner table. They're pretty good throughout the year, yes, but sometimes the smooth purple skins of out-of-season 'plants are tainted with bruises or the shape is even deformed — and that just won't do. Rest assured, however, that with the season ranging from July to October, you can find eggplant at its absolute peak for most of the year. As you transition from summer to fall, treat it as the centerpiece of your meals. These recipes should get you started.
If you plan on growing your own eggplant, be sure to check out HGTV Gardens for great tips like how far apart to grow each plant — do not over-plant, as eggplant will produce very well and over a long period of time.
Eggplant Parmesan has always been a hit, but there are a slew of inventive ways to prepare this nightshade vegetable. For a spin with similar Mediterranean flavors, Giada De Laurentiis makes an Eggplant Timbale, a free- standing Italian casserole made with penne, marinara and smoked mozzarella that's all wrapped up in thinly sliced eggplant. Or, try Rachael Ray's recipe for Roasted Eggplant and Tomato Subs and wedge circles of roasted eggplant between sauced sesame sub rolls.
Eggplant may be pegged as exclusive to Mediterranean recipes, but there's no need to limit it to that. Food Network Magazine's effortless Stir-Fried Eggplant uses Japanese eggplant, cilantro and just a pinch of sugar to capture the natural flavor of the flesh when it's cooked until soft.
And it turns out that eggplant can churn out a pretty solid salad too — especially when it hits the grill. Bobby Flay's Grilled Eggplant Salad brings charred, skin-on eggplant together with velvety avocado and a homemade vinaigrette, while Giada's Grilled Eggplant and Goat Cheese Salad (pictured above) uses Japanese eggplant for a salad packing the tang of goat cheese.
Not looking to give up on meat? Food Network Magazine's Chicken With Sun-Dried Tomato, Eggplant and Basil ensures that all that in-season eggplant doesn't go to waste, while you're still getting your meaty fix.
When you're going vegetarian — or if you're cooking for vegetarians — there's no better produce to have in your arsenal than eggplant. Bread it. Sautee it. Roast it. Grill it. No matter what, bring eggplant to the center of your dinner plate this season.
More eggplant recipes from family and friends:
Feed Me Phoebe: Grilled Eggplant Baba Ganoush
Jeanette's Healthy Living: Asian Grilled Eggplant With Soy-Sesame Sauce
From My Corner of Saratoga: Ratatouille Fresh From the Garden
And Love It Too: Slow-Cooker Paleo Eggplant Parmesan
Big Girls Small Kitchen: Homemade Baba Ganoush
Made by Michelle: Eggplant Zucchini Muffins
Cooking With Elise: Stuffed Eggplant
Virtually Homemade: Layered Ratatouille la Ratatouille
Napa Farmhouse 1885: Roasted Eggplant and Peppers Dip
HGTV Gardens: Garden-to-Table: Eggplant
Thursday Night Dinner: Eggplant Flatbread
Healthy Eats: Going Meatless With Eggplant
Devour: Giada's Rigatoni With Eggplant Puree
Cooking With Books: Sriracha and Honey Eggplant Rice
More posts from Allison Milam.
Similar Posts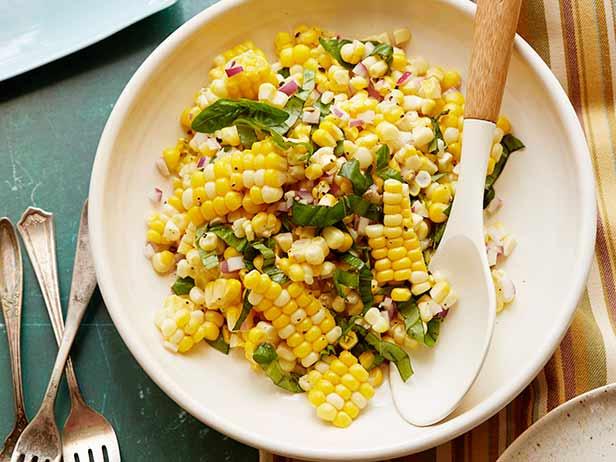 Think beyond the usual presentation of corn with butter and salt....