We're teaming up with food and garden bloggers to host Summer Fest 2012, a season-long garden party. In coming weeks, we'll feature favorite garden-to-table recipes and tips to help you enjoy the bounty, whether you're harvesting your own goodies or buying them fresh from the market. Today, we're exploring cucumbers.
Farmers' markets are bursting with water-filled, crunchy cucumbers, a refreshing relief amidst the rising summer heat. With numerous no-cook cucumber recipes, there's every reason to stock up on the green-skinned fruit for salads, soups, dips and more. These simple and refreshing recipes will get you through the hottest days of summer — no grilling required.
Before you get chopping, be sure to choose firm cucumbers, avoiding soft or shriveled spots. Once you're home, store them in the fridge for up to 10 days.
Salads are an easy and effortless way to let cucumbers shine. For a delightful mix of sweet and savory, try this Watermelon-Cucumber Salad (pictured above), which is topped with creamy crumbled goat cheese. Or try Ellie Krieger's Cucumber Salad, a mix of cucumbers, red onion and dill.
In need of a dip that packs punch? Ina Garten's Easy Tzatziki, Aarti Sequeira's Cucumber Raita and Ellie Krieger's Mango Salsa take a few quick minutes to whip up. Serve them with pita, tortilla chips or crudités — either way your palate will feel refreshed.
And, there's no better way to beat the summer heat than with a light, chilled soup. Try Ina Garten's textured Gazpacho and serve it at your next garden party and your guests will be clamoring for more.
What's your favorite cucumber recipe? Share it with us in the comments below.
More cucumber recipes from friends:
The Sensitive Epicure: Chinese Style Cucumbers
What's Gaby Cooking: Cucumber, Herb and Pita Salad
Ingredients, Inc.: Easiest Cucumber Salad
Virtually Homemade: Cucumber Strawberry Cooler
From My Corner of Saratoga: Marinated Cucumber Salad
The Cultural Dish: Pasta With Roasted Shrimp and Cucumbers
Daily*Dishin: Southern Benedictine – Creamy Cucumber Spread
Delicious Lean: Cucumber Jicama Salad
Napa Farmhouse 1885: Cucumber and Avocado Open-Face Sandwiches
And Love It, Too: Fermented Spicy Garlic-Dill Cukes and Zukes
Cooking With Elise: Wedge Salad With Cucumber-Ranch Dressing
More posts from Laura Loesch-Quintin.
Similar Posts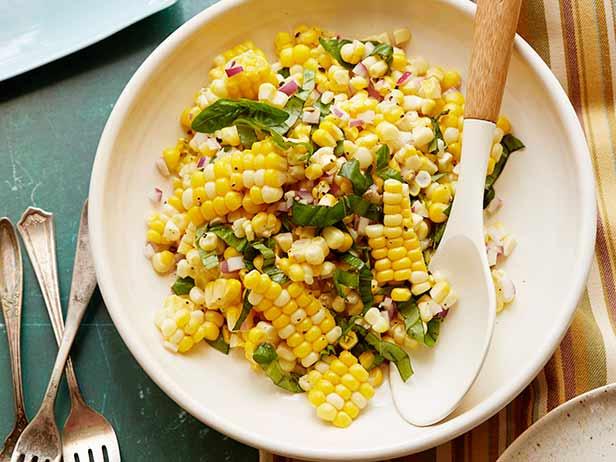 Think beyond the usual presentation of corn with butter and salt....