This summer, Food Network's Grilling Central is packed with recipes for the entire family's taste buds, boasting the best in burgers, dogs, chicken and more all season long. But with so many recipes, where do you start? Each Friday, FN Dish is giving you a complete menu that is stress-free, and this weekend's spread features easy DIY kebabs.
Quick-cooking and a downright cinch to prepare, kebabs are one of the most versatile meals you can make on the grill. Most recipes consist of little more than meat or seafood, a variety of vegetables and a multipurpose marinade to flavor them. Beyond that, you can get as fancy as you like, customizing your kebabs to reflect your family's tastes and whatever ingredients you have on hand.
If you're cooking for kids, you may want to stick with simple Beef Kebabs With Couscous, coated in a mild Dijon mustard-rosemary mixture. Entertaining seafood lovers? Cook up Mackerel a la Plancha, layered with zesty lemon slices. Meat meat eaters will enjoy hearty Bacon-Beef skewers, while heat seekers will want to taste these Chili Molasses Chicken Skewers, marinated in a combination of Worcestershire sauce and chipotle peppers in adobo.
Regardless of what kind of kebab you're making, all ingredients can be strung on either wooden or metal skewers. If you choose wooden ones, be sure to soak them in water before grilling — putting dry wooden skewers on the grill would cause them to burn and disintegrate in minutes. Check out Food Network Magazine's roundup of 50 Kebabs for more meals on a stick.
Appetizer: Italian Flatbread
Main Dish: Build-Your-Own Shish Kebabs
Side Dish: Broccoli Salad
Dessert: Blueberry Fools
Cocktail: White Peach Sangria
Planning on making one of these dishes? Snap a photo and post it on Food Network's Facebook wall.
More posts from Maria Russo.
Similar Posts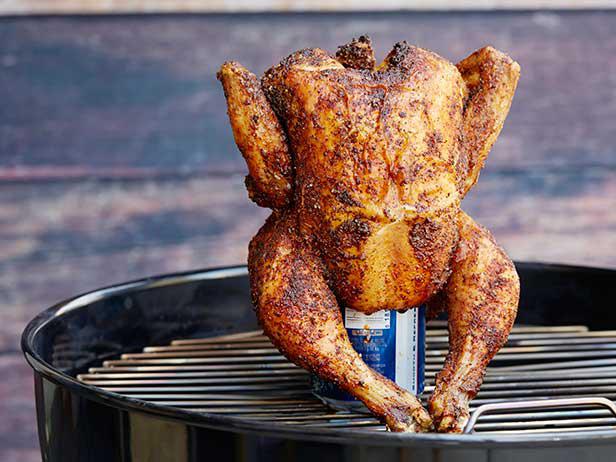 This clever grilling technique is easy enough to perfect even on your first try making it....