We're teaming up with food and garden bloggers to host Summer Fest 2012, a season-long garden party. In coming weeks, we'll feature favorite garden-to-table recipes and tips to help you enjoy the bounty, whether you're harvesting your own goodies or buying them fresh from the market. Today, we're exploring squash.
Tender and mild, summer squash captures the freshness of the season whether it's raw, steamed, roasted or grilled. But no matter how you choose to prepare this shapely and colorful member of the gourd family, it seems there's no better combination than summer squash and cheese — Gruyère, ricotta, Parmesan and much more — for a light salad or a hearty main.
Before you get cooking, be sure to choose summer squash with bright-colored skin free of spots and bruises. Once you're home, refrigerate it in a plastic bag for up to five days, though it will likely disappear long before then.
When summer squash is at its freshest, eat it raw. Thinly shaved, it needs nothing more than a drizzle of lemon juice and olive oil, a scattering of grated pecorino and a sprinkle of freshly cracked black pepper like in this beautiful Summer Squash Carpaccio (pictured above) from Food Network Magazine. If you're in search of a salad of cooked summer squash, Grilled Summer Squash with shaved ricotta salata and Claire's Minted Squash-Orzo Salad with crumbled feta are equally as delectable.
Fancy a gratifying gratin? Look no further than Provencal Summer Squash and Potato Gratin, sprinkled with freshly grated Manchego and baked until golden brown. If you're in a hurry, a simple Squash Gratin will do the trick. Tossed and topped with grated Gruyère, it takes no more than 35 minutes to bake. No matter which recipe you choose, you can serve your gratin warm or at room temperature, making it the perfect make-ahead side.
There's no reason summer squash can't make an appearance at brunch, too. Just add it to eggy mains like frittatas and skillet-baked eggs. Made with ricotta, Parmesan and small yellow crooknecks, Alton's Crookneck Squash Frittata, a classic Italian egg-based dish, is great for groups and makes for fine leftovers. Meanwhile, Skillet Eggs With Squash pack punch with grated pepper jack or sharp white cheddar cheese. But, no matter what you make of crooknecks, pattypans and zucchini, it doesn't get much better than fresh summer squash with a healthy sprinkling of cheese.
What's your favorite squash recipe? Share it with us in the comments below.
More summer squash recipes from family and friends:
Jeanette's Healthy Living: Quick and Easy Sesame Summer Squash Stir-Fry
Cooking With Elise: Orange Summer Squash Bread
Feed Me Phoebe: Summer Squash and Cornmeal Cakes With Tarragon
Chez Us: Zucchini Pancakes With Minty Dill Crème Fraiche
And Love It, Too: Peter Pan Squash Spiced Oven Fries
Made By Michelle: Pattypan Squash and Tomato Frittata
Cooking Channel: Our  Top 5 Favorite Squash Recipes
Daily*Dishin: Summer Squash Confetti Salad
Delicious Lean: Summer Squash Ribbons With Feta and Pine Nuts
Napa Farmhouse 1885: Summer Squash Chips
Ingredients, Inc.: Summer Squash and Kale Sauté
Thursday Night Dinner: Summer Squash Medley
Sweet Life Bake: Zucchini Fried With Tequila-Spiked Avocado Dip
Dixie Chik Cooks: Fried Summer Squash Parmesan Sliders
Healthy Eats: Summer Squash Any Way You Slice It
From My Corner of Saratoga: Stir-Fry With Summer Squash
Dishin & Dishes: Mushroom Pesto Stuffed Zucchini Boats
More posts from Laura Loesch-Quintin.
Similar Posts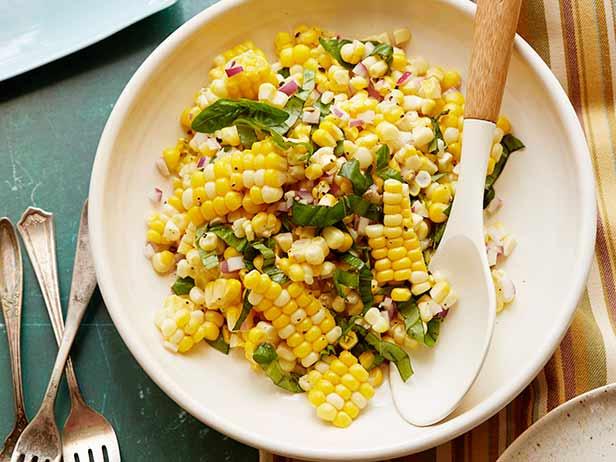 Think beyond the usual presentation of corn with butter and salt....