In a special episode of Restaurant: Impossible, Robert Irvine faced his toughest challenge yet when First Lady Michelle Obama assigned him the task of rebuilding Horton's Kids, a children's community center that provides many services such as serving after-school meals in one of Washington, D.C.'s neediest neighborhoods. Mrs. Obama gave Robert three missions: Give Horton's Kids a dining room, update their kitchen and create a community garden for them.
A few months after Robert's Restaurant: Impossible-style transformation of Horton's Kids, we checked in with Executive Director Brenda Chamberlain to see how the organization is doing. "Everyone loves and is impressed with the new, transformed Horton's Kids!" says Brenda. "The vibrant space establishes a sense of community for the children."
The brand-new kitchen and dining area have enabled Horton's Kids to run cooking classes and hands-on nutrition programs more effectively. "During a recent class, we had kids sautéing vegetables, making omelets on the stovetop and blending fruit smoothies — all simultaneously," says Brenda.
The dining/all-purpose room allows kids to sit down and share their meals together. Thanks to the collapsible tables and hang-able chairs, staff and volunteers have flexibility to arrange the space to meet the needs of various programs outside of meal times. The children love having a nice indoor space where they can hang out, chat with their friends and do homework. The computer lab that Microsoft donated has helped to bridge the technical divide often found in the Horton's Kids community.
In the garden, early summer vegetables are growing nicely. Horton's Kids has started a children's gardening club: "Kids are taking great pride in the garden," says Brenda. The irrigation bike has proven to be a fun, creative way to engage the children in gardening, and they're enjoying it "tremendously."
After hearing the First Lady talk about the importance of eating fruits and vegetables, the children are getting more adventurous and trying new kinds of produce. "They also enjoy knowing that they are growing vegetables and herbs they can eat," Brenda says. In an upcoming class, the kids will be using the fresh basil to make pesto.
The future looks bright for Horton's Kids: "With the help of our amazing volunteers and donors, the new space will soon allow us to serve many more children."
To find out how you can make a difference in the lives of these children, visit www.hortonskids.org.
For a closer look at the transformation of Horton's Kids, check out our photo gallery of Robert's mission from the White House.
More posts from Sara Levine.
Similar Posts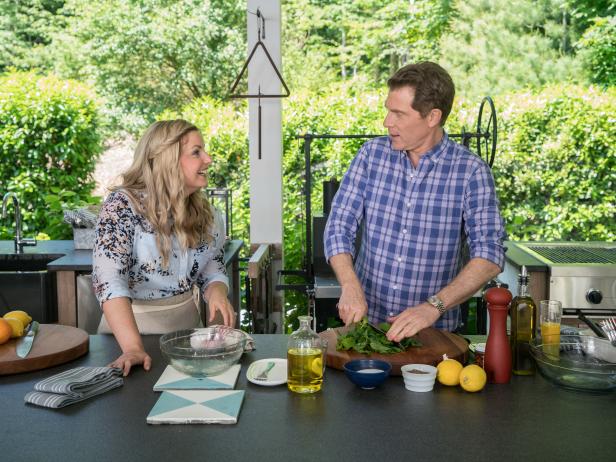 Get the latest details on the all-new series, The Bobby and Damaris Show....