A fresh, no-cook sauce that takes just moments to prepare, basil pesto is a must-have summer sauce that's most traditionally made with bunches of fresh basil leaves, plenty of garlic, crunchy pine nuts, mounds of Parmesan cheese and fruity olive oil. If you've never made homemade pesto before, start with Food Network Magazine's Basil Pesto (pictured above) — it's an easy, versatile recipe that the whole family will enjoy. Though pesto is often featured atop pasta noodles, it can shine in salads, soups, appetizers and more. Check out Food Network's pesto-based recipes below and let us know your favorite way to enjoy pesto.
With a smooth sauce and rich flavor, Food Network Magazine's five-star Pesto Cream Tortellini is a go-to weeknight dinner that features tender tortellini — pillow-like pasta that is stuffed with either meat or cheese — and good-for-you broccoli. Pick up a package of store-bought tortellini to save time in the kitchen.
Giada's Farro With Coarse Pesto is an Italian-style salad that can be featured as a hearty side dish or healthful light lunch. When making the pesto, Giada processes the basil mixture just until it's coarse — the uneven texture will stand up well to the hefty weight of the grains. Be sure to boil the farro in vegetable broth or water, instead of chicken broth, to maintain a meatless dish.
Food Network Magazine combines just a handful of ingredients to make its Pesto Bean Soup, a fill-you-up bowl that features creamy cannellini beans, chopped olives and a dash of red pepper flakes for subtle heat. Swap in vegetable broth for chicken, and serve with a loaf of crusty bread for a no-fuss vegetarian meal.
Food Network chefs Paula, Ina and Tyler let basil pesto star in an array of party-ready bites, each easy to serve and eat at your summertime cookouts. In just 20 minutes, Paula creates Pesto Cheese Blossoms by layering pistachio-studded cream cheese, garlicky basil pesto and chewy sun-dried tomatoes inside a provolone cheese-lined bowl. Let this easy appetizer freeze until the layers are firm, and serve with simple crackers once your guests arrive. Ina's Tomatoes Roasted With Pesto is a fresh, no-fuss snack that comes together in a flash. After quickly roasting juicy tomatoes, she tops them with a nutty pesto sauce and salty Parmesan cheese and returns them to the oven until the sauce is warm and the cheese is melted. A unique twist on classic garlic bread, Tyler's Basil Pesto Bread boasts a sliced baguette that's slathered with the cheesy green sauce and quickly baked until crispy and crunchy.
Meatless Monday, an international movement, encourages people everywhere to cut meat one day a week for personal and planetary health. Browse more Meatless Monday recipes.
More posts from Maria Russo.
Similar Posts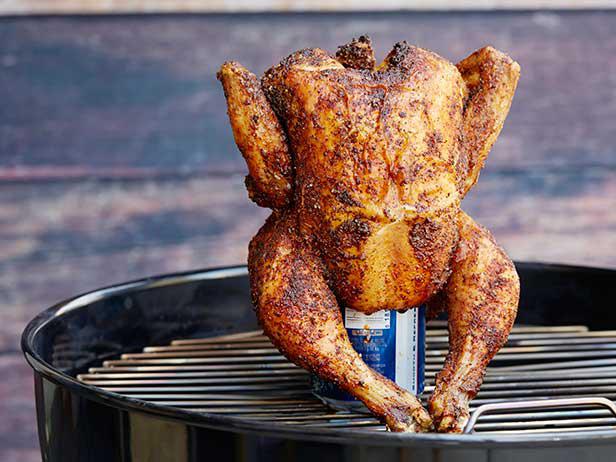 This clever grilling technique is easy enough to perfect even on your first try making it....