Since Derby Day traditionally happens in the beginning of May, I always associate it with the beginning of summer. Is it because the horse race is affectionately referred to as "the most exciting two minutes in sports?" No, it's because I love so many of the traditions that come with it. I love that the winner is presented with a "blanket" of 554 roses. I love fiddling with a version of "burgoo," a beef and pork stew traditionally served on this day. Burgoo is one of those recipes that can be left open to interpretation. It is traditionally made with whatever meats (beef or pork) and vegetables (lima beans, corn or okra) are available. My best results came from braising some cubed-up brisket and stirring in some corn, fava beans and peas to give it that touch of spring. With all this cooking, a cooling drink seems only fitting. The mint julep happens to be one of my favorites. It reminds me of a snow cone, the fruity, icy cone I used to get from ice cream trucks as a kid. This provides a fun drink for kids instead of a more traditional Shirley Temple.
"Kiddie" Mint Juleps
Serves 4 (or more)
2 cups water
1 cup granulated sugar
3 cups loosely packed mint leaves
The juice and a little zest from 3 lemons
Splash maple syrup
1-2 tablespoons raw sugar
Make the mint syrup: In a small saucepan, heat the water and sugar together until the sugar dissolves completely. Remove the pan from the heat and transfer the mixture to a bowl to cool more quickly. Add 2 cups of the mint leaves to the bowl and allow the mint to steep as the sugar syrup cools. After about 15 minutes, strain (or pick) out the mint leaves. Stir in the lemon juice and zest. Refrigerate.
The ice for this drink is very important. I like to wrap a bunch of regular ice cubes in a kitchen towel and crush them with a rolling pin until fairly fine. For four drinks, you will need about 12 – 16 large ice cubes. I make the crushed ice and keep it in the freezer until ready to serve the drinks.
Serve the drinks: Juleps are traditionally served in silver cups but any fun cup will do. Mix the remaining cup of mint leaves into the ice and fill each cup amply almost to the rim. Pour about ½ cup of the lemon syrup over the ice and top with a little maple syrup and a sprinkle of raw sugar for texture. Serve with straws and little spoons. To me, it's fun to alternate eating a spoonful of the ice with the sugar and mint leaves and sipping the lemon syrup mixed with the melting ice at the bottom of the cup.
Note: To make this drink for grownups to enjoy, make it the same way and add a generous splash of your favorite bourbon to each glass.
Every week, Alex Guarnaschelli, host of Alex's Day Off, shares with readers what she's eating — whether it's from the farmers' market or fresh off the boat, she'll have you craving everything from comfort food to seasonal produce.
More posts from Alex Guarnaschelli.
Similar Posts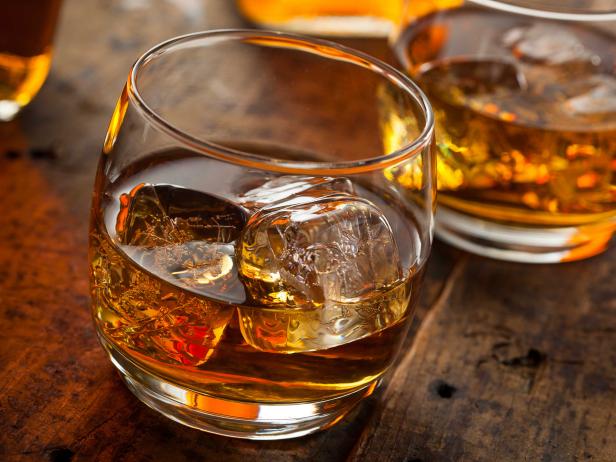 Did you ever wonder why alcohol content is measured in "proof" — and why that number differs from alcohol by volume, or ABV?...