This Memorial Day weekend, as you fire up the barbecue and host the first backyard cookout of the season, think beyond basic burgers and hot dogs — though there is nothing wrong with either of those classics — and let other main dishes shine in your holiday spread. We've rounded up five must-try meat and fish recipes, for beef, pork, trout and more, that can be quickly and easily cooked on the grill. Check out Food Network's favorite selections below and tell us what you're grilling this Memorial Day weekend.
The ultimate in finger-lickin' barbecue, the Neelys' Wet BBQ Ribs (pictured above) are juicy, succulent and fall-off-the-bone tender. The secret to cooking these saucy beauties is to grill them over indirect heat in a slow-and-low process, allowing the meat to become soft and rich. Pat recommends basting the ribs during only the final 30 minutes of cooking, so as to prevent the ketchup-vinegar-brown sugar sauce from burning.
If you've shied away from grilling seafood in the past for fear of delicate fish falling apart, give it a try this weekend, using Food Network Magazine's no-fail aluminum-foil cooking technique. By wrapping up fish fillets in foil and grilling the entire pouch, the seafood is protected and can't tear or shred on the grill. Simple, light and ready to eat in just 25 minutes, Food Network Magazine's Citrus Trout Almondine (pictured left) is prepared by placing seasoned trout fillets in foil, adding crunchy almonds and refreshing orange slices and grilling until the fish is cooked and the nuts are toasted.
A go-to appetizer pick or easy dinner option, Tyler's Grilled Beef Satay recipe from Cooking Channel uses just a handful of ingredients and requires only five minutes on the grill. Before cooking, Tyler soaks the wooden skewers in water — so they don't burn on the grill — and bathes the beef in a curry-scented, yogurt-ginger mixture. Garnish with fragrant cilantro and let guests enjoy the meal with their hands.
As versatile and easy to prepare as chicken, pork chops are quick-cooking, lean cuts of pork that pair well with almost any flavor. Cooking Channel's Grilled Pork Chops With Corn, Tomatoes and Basil (pictured right) are first brined in a concentrated garlic-coriander-anise seed water and grilled over a combination of indirect and direct fires. Plate each juicy chop with a warm, colorful salad of sweet corn, bright cherry tomatoes, scallion greens and torn basil to complete this in-season supper.
A dressed-up version of traditional grilled chicken, Food.com's Grilled Moroccan Chicken boasts a bold spice rub of cumin, paprika and turmeric. Let the chicken marinate in the mix for at least an hour before grilling, so that it can adopt the intense flavors of the spices, and serve with your favorite picnic side dishes.
Stop by Food Network's Grilling Central to find easy recipes for Memorial Day mains, side dishes, desserts and more.
Watch: Food Network's Grilling Week 2012. Food Network celebrates the launch of the summer grilling season with a week of barbecue and grilling episodes including premieres from Iron Chef America this Sunday, Diners, Drive-ins and Dives, Chopped and Restaurant Impossible.
More posts from Maria Russo.
Similar Posts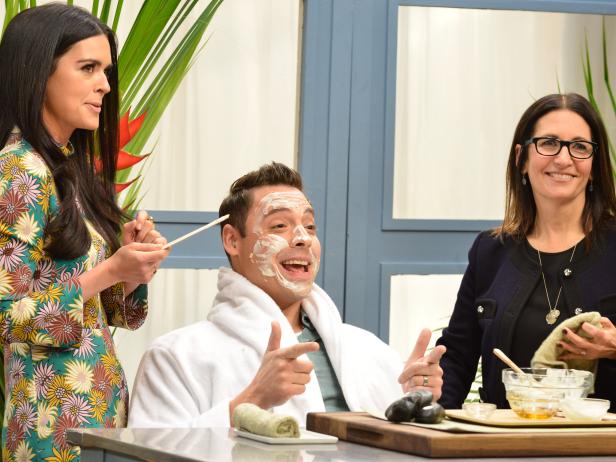 You don't have to travel somewhere exotic to make the most of your time off....