Batter up! The 2012 Major League Baseball season opened last night with the christening of the new Marlins Ballpark. The Cardinals and Miami Marlins battled it out at the 37,000-seat venue, which features a retractable roof and a view of downtown Miami — one of the reasons for the 2012 Marlins name change.
The Marlins name isn't the only thing changing this season: Food Network and Delaware North Companies Sportservice are ushering in the start of MLB with a customizable hot dog bar,  A Topping for Every Taste.
Food Network Hot Dog Bars are set to launch in Cincinnati, Cleveland, St. Louis and Texas. Satisfy your craving for all-American classic ballpark fare with a ¼-pound hot dog served on a potato roll. And it doesn't stop there. Top your dog with The Basics: BBQ sauce, ketchup, mustard, relish and sauerkraut; plus, Food Network Favorites: bacon chunks, fried onions, corn chips, griddled onions and peppers, shredded cheddar, smoky baked beans and a smoky-sweet jalapeno relish. Each stand will also feature a regional dog (more on these below), as well as a Food Network Signature Hot Dog with smoky baked beans, yellow mustard and corn chips.
Cincinnati, Milwaukee and Minnesota will hit a home run with new Food Network Stadium Favorites: Bacon Sloppy Joes and Buffalo Chicken Mac & Cheese. Last season's fan-favorite Signature Steak Sandwiches, along with a locally inspired version, are still available in Cleveland, Detroit, Milwaukee and San Diego.
Regional hot dog offerings on the menu this season:
Cincinnati
Pork rinds and BBQ sauce
Cleveland
Pulled pork and coleslaw
St. Louis
Red Hot Riplets, Provel and BBQ sauce
Texas
Jalapeno cheddar sauce and seasoned beef
More posts from FN Dish Editor.
Similar Posts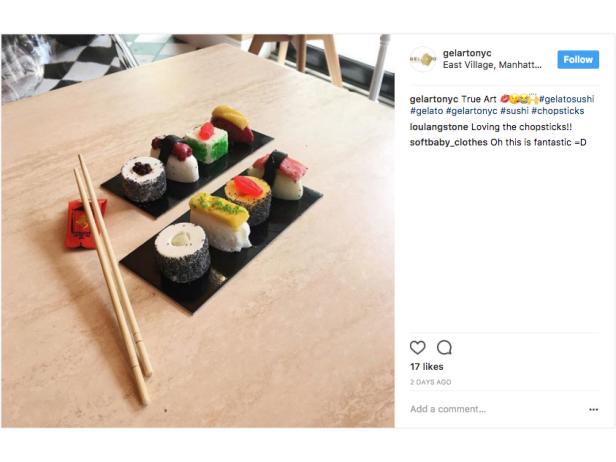 Nothing says summer whimsy like gelato in the shape of pieces of nigiri. ...