From lobster to mussels to shrimp and whole arctic char, the sixth episode of Worst Cooks in America had the remaining recruits peeling, shucking and filleting several deep-sea treasures. For their first task, each team had to create a seafood tower, one of the most expensive dishes on a restaurant menu, consisting of mussels, lobster, shrimp, oysters and crab. After that, each member grabbed their knives and filleted a whole arctic char to create a dish for their mentor.
Everyone seemed to have issues at one point or another with cooking and/or prepping their seafood dishes. You can overcook shellfish in mere seconds, and choosing fresh fish can be intimidating. Below are Food Network's simple step-by-step tips to create the ultimate seafood feast.
Peeling and deveining shrimp at home is easy and can also save you money at the fish counter. For completely peeled and deveined shrimp, gently twist to remove the head if it's still attached. Then go underneath, where the legs are attached, and dig your thumb under the shell to release. Next, remove the tail with a gentle tug. Lay the shrimp down and run your paring knife along the back to remove the thin gray vein.
Browse our peeling and deveining step-by-step photo gallery.
The very best meals start with the very best ingredients, and fish is no exception. If you learn how to buy it, you can let the fish do all the work. If you're buying whole fish, they should be shiny and sparkly with firm flesh; clean small, tight scales; red gills; and clear eyes.
If you're buying steak or fish fillets, they should have a moist sheen and slightly translucent, dense flesh that feels firm to the touch.
Learn how to pick and store fish by watching this video.
Takeaway seafood tips from this show:
1. If you see a mussel semi-opened, it's dead so discard it
2. Don't overcook mussels, they'll taste like little rubber balls
3. Create a flavorful cooking liquid so your seafood soaks up the seasonings
4. Cook shrimp until they're opaque
5. The sauces that complement your seafood should have impact
Recipes from this show:
Bobby's Mussels With White Wine
Anne's Tartar Sauce
Tune in for new episodes: Sunday at 9 pm Eastern/8 pm Central
More posts from Sarah De Heer.
Similar Posts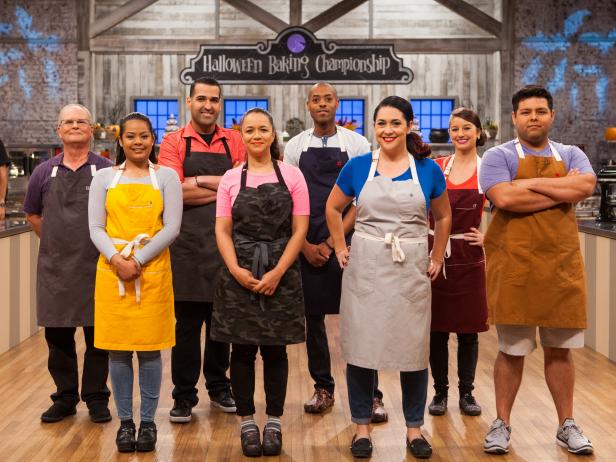 Get the details on the all-new season of Halloween Baking Championship, premiering on Sunday, Sept. 25 at 9|8c....