Almost as famed as the Thanksgiving turkey, the holiday ham is just as impressive, but far easier and quicker to cook than its winged counterpart. Easter Sunday is a little more than a week away, and if you'll be celebrating, you probably have begun to contemplate how you'll prepare the star of your meal, the ham. Will you save time by opting for a precooked package or purchase a raw ham and slowly bake it yourself? How about seasonings and glazes — which is best and when should you add each? What's the proper way to slice a ham around its center bone? We have those answers and more, plus five no-fail ham recipes that guarantee classic, flavorful results every time.
What to Buy: Ready to eat as soon as they've been warmed, precooked hams are not a bad bet if you are pressed for time, are feeding a large crowd or simply wish to take it easy in the kitchen this year. Precooked hams can be covered with sticky, delicious glazes the same way raw hams can. Buying a fresh ham, however, allows you to trim any unnecessary fat before cooking and to control the amount of sodium in your meat.
Rubs vs. Glazes: Since hams must be rubbed with herbs, seasonings, etc., before they are baked (or heated through), decide whether or not you're going to rely on a rub before you put it in the oven. If you'll be glazing your ham, cook the meat in two stages — first without the glaze, then again with it. If you were to add the glaze at the beginning of baking, you'd risk burning the sugars from this outer layer. Whether you choose to rub or glaze your ham, try scoring the fat atop and around the ham and sticking whole cloves or spices inside of those slits. This allows the meat to absorb those warm, smoky flavors as it cooks.   
Parallel Slices: Unlike carving a turkey or chicken, slicing a ham is not as simple as following  the leg, breast and wing bones. To achieve thin, even ham slices, try cutting parallel to the longest side of the ham. Let the meat fall over the center bone, then intersect those slices to remove them.
Check out five easy-to-cook ham recipes below, then tell us how your family prepares its best ham recipe.
To prepare Food Network Magazine's Classic Glazed Ham (pictured above), first roast the meat until it is thoroughly heated through, then pour your favorite glaze atop it and return it to the oven until the glaze is glossy and golden brown. Quick-cooking glazes like Apple-Maple Glaze, Mustard-Orange Glaze, Hoisin-Spice Glaze and Pineapple-Apricot Glaze are go-to toppings that will add sweet and savory flavors to your Easter ham.
Nigella Lawson's Aromatic Spiced Ham from Cooking Channel gets its intense flavor from a two-part cooking process. After being boiled in a red wine-water bath with coriander and fennel seeds, the ham is studded with whole cloves, covered with a thick red currant-vinegar glaze and baked until brown.
For an especially impressive, flavor-packed ham, try Tyler's Tangerine-Glazed Easter Ham With Baby Carrots (pictured) from Food Network Magazine. He tops this smoked meat with a sage-olive oil paste, then later covers it with a spiced citrus glaze, made with cinnamon, cloves and fresh tangerines. Tyler tosses peeled carrots in the zesty glaze and cooks them alongside the ham until tender.
A traditional, tried-and-true recipe, Food.com's Baked Honey Mustard Ham calls for just five pantry ingredients. To ensure that the meat remains moist, baste the ham with the light orange juice-honey glaze as it cooks.
Chuck Hughes' Apple Butter Glazed Ham (pictured) from Cooking Channel features homemade apple butter, made with fresh apples, plenty of brown sugar and a pinch of nutmeg. Once you've used the sweet spread to make the ham glaze, try adding it to your yogurt or enjoying it with simple vanilla ice cream.
Simple Side Dishes:
Ambrosia
Simple Scalloped Potatoes
Southern Biscuits
Asparagus With Tangy-Smoky Dressing
Stewed Turnip Greens
Creamy Spring Peas With Pancetta
Marmalade-Glazed Carrots With Candied Pecans
Visit Food Network for more Easter brunch, dinner and dessert recipes.
More posts from Maria Russo.
Similar Posts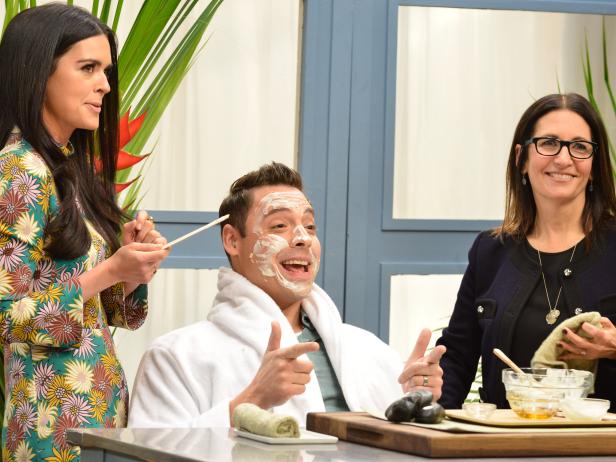 You don't have to travel somewhere exotic to make the most of your time off....