Welcome to March. You've made it to the final few weeks of winter, but it's these last dreary days that will likely leave you feeling antsy to get outside and craving sunshine, shorts and light, fresh foods. Rather than wishing away your cabin fever, celebrate it with rich, fill-you-up casseroles that bring the whole family together, because before you know, it will be too warm to even consider heavy, piping-hot meals. Below, our collection of decadent casseroles features baked pasta, hearty vegetable sides, a make-ahead breakfast strata and more comforting recipes to get you through these dog days of winter with ease.
Food Network Magazine has created the ultimate go-to guide to preparing your own Mix-and-Match Baked Pasta. To cook up the winning combination of your choice,  just select your favorite noodle shape, pasta sauce, multiple meat or vegetable add-ins, subtle sauce flavorings and an array of creamy cheeses. The pasta dish featured above boasts Baked Farfalle With Escarole and Zucchini, tossed in a spiced fresh tomato sauce and mixed with fontina and Parmesan cheeses.
With just a few simple steps, this Spanish Chicken & Rice Bake recipe from Food.com is a cinch to fix in a flash. Just mix together cream of chicken soup, sweet corn and white rice, top with pieces of boneless chicken breasts and bake for 45 minutes to create a one-dish dinner that feeds a crowd.
Not just for Thanksgiving dinner anymore, Alton's no-fail Best-Ever Green Bean Casserole (pictured) features a timeless combination of  vibrant green beans, earthy mushrooms and spices cooked in a rich butter sauce and baked beneath crunchy onions until bubbly. Ditch the store-bought fried onions, and follow Alton's simple steps to making your own baked topping instead.
If you've been meaning to use up spare produce and clean out your refrigerator's veggie drawer, wait no longer, because Cooking Channel's Harvet Vegetable Bake boasts cups of such fresh vegetables as Swiss chard, kale, cremini mushrooms, broccoli and more. To prepare these good-for-you ingredients, simply saute them with soy sauce, top with a garlic-white wine sauce and roast until tender. A generous sprinkling of cheddar and Jack cheeses before a final few minutes in the oven ensures warm, gooey results. 
Though casseroles are an easy way to feed your family a one-pan dinner, they can serve as a hearty breakfast or brunch option as well. Featuring an egg-egg white mixture, lean turkey sausage patties and cubes of rustic Italian bread, Bobby Deen's Sausage, Egg, and Cheese Strata (pictured) is a savory breakfast bake that can be assembled the night before and quickly cooked in the morning.
Visit Food Network for more Crowd-Pleasing Casseroles and Comfort Food favorites.
More posts from Maria Russo.
Similar Posts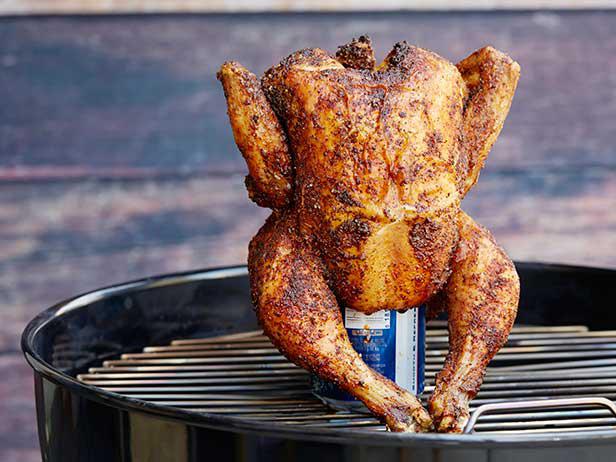 This clever grilling technique is easy enough to perfect even on your first try making it....