There is little doubt among the judges that Chef Zakarian (or Iron Chef Zakarian, as he should now rightfully be called) will make a mighty fine addition to the roster in Kitchen Stadium. Throughout the competition, he offered not only consistently the best technique on the show, but also some of the tastiest food placed before us and, of course, Alton Brown.
He was not alone, however. If my calculations are correct, I believe that I worked my way through nearly 100 dishes during the series and, while we were there to judge and offer criticism of their dishes, the truth is that the majority of what the chefs offered up would have received a definite thumbs up in any restaurant.
There were a few clunkers, of course, but I will get to that later. For the moment, let me just share with you the dishes I consider the very best of this season of The Next Iron Chef.
10. SAUSAGE & PEPPER SANDWICH – CHEF GUARNASCHELLI (TRANSFORMATION)
I called Chef Guarnaschelli's Kitchen Stadium take on a humble sausage and pepper sandwich "ballpark perfection" and even now, some months later, it is still one of the dishes I dream about the most. The combination of hot dogs with other sausage meat gave intense flavor, while the addition of crunchy onion rings added necessary texture. It was smart cooking and showed her to be a real player in the competition.
9. CORNISH GAME HEN WITH CHICKEN LIVERS – CHEF BURRELL (STORYTELLING)
An Iron Chef does not just have to cook a great plate of food — they also need to sell it to the judges in Kitchen Stadium. I suspect there are not many donkeys with their hind legs still attached anywhere near Chef Burrell's house as she can certainly weave a mean story. She can also cook like a dream and proved it with this complex and evocative dish that brought together her small-town roots, her New York lifestyle and her love of Italy. The chicken fried chicken liver and the "everything bagel" panzanella salad were the perfect base for a moist grilled Cornish game hen. Sensational stuff.
8. HALIBUT CRUDO – CHEF ZAKARIAN (SECRET INGREDIENT SHOWDOWN – IMPROVISATION)
Chef Zakarian acknowledged that the protein in his main dish of coconut crusted halibut was overcooked. In my eyes that could have been enough to send him packing. However, although we had warned chefs against making more than one dish unless it was called for, in this case it proved to be his salvation. How different the result of the whole competition could have been if he had not made a last-minute decision to create one gloriously memorable bite of halibut crudo.
7. TILAPIA CORN DOG WITH DILL SOUR CREAM – CHEF HUGHES (TRANSFORMATION)
All three judges liked the use of a plastic knife as a stick for Chef Hughes' tilapia corn dog, but it was the perfect frying that really earned it a place on this list. The batter was crunchy and had puffed up around the tilapia, allowing it to steam to perfection inside its casing, while the sour cream with flecks of dill made a pleasingly sharp dipping sauce. If all ballpark food was like this, I might become a convert.
6. TUNA JERKY SOUFFLE – CHEF FALKNER (RISK)
I don't think there are too many chefs on this planet who would choose to cook with this rather grim ingredient. That Chef Falkner did so and with a ludicrously short cooking time marks her out as one of the most remarkable chefs in the country. That she made a soufflé that astonished all three judges with its flavors shows just why she made it all the way to Kitchen Stadium. The accompanying dashi sauce was just as good and definitely made sure she was our winner for the day.
5. MISO SOUP – CHEF SAMUELSSON (SECRET INGREDIENT SHOWDOWN — RESOURCEFULNESS)
Throughout his time in the competition I felt that Chef Samuelsson only really came alive when his back was against the wall and he faced elimination. This was clearly evident in the first challenge when he found himself up against his former teammate, Chef Spike Mendelsohn. He took the risky decision to make a duo and, while I thought that his presentation was a little messy, the depth of flavor he achieved in a small bowl of miso soup enriched with scallops and clams was enough to ensure he stayed in the competition.
4. SAUSAGE-STUFFED ROAST QUAIL – CHEF BURRELL (INGENUITY)
Cinema concession candy might be the perfect accompaniment to a great movie, but it is hardly likely to be at the top of anyone's list of fine dining ingredients. For a battle-hardened chef like Anne Burrell, however, the thought of cooking with root beer held few fears and she finally produced a dish that showed she had listened to our pleas to stop playing it safe. The sausage-stuffed quail was juicy and delicious, while the root beer-braised squash was meltingly soft with a stunning sweet and sour tang.
3. TUNA ARRABBIATA – CHEF CHIARELLO (PASSION)
Few chefs in this competition cooked with as much passion as Chef Chiarello, and he showed us his "angry" side with a spicy arrabbiata sauce that topped a delicate piece of raw tuna. The use of garlic and basil provided the perfect counterpoint to the slight fattiness of the fish and had all of the judges nodding in approval.
2. FRISEE SALAD WITH CRANBERRY SORBET – CHEF FALKNER (FINALE)
Chef Falkner does things in the kitchen that no other chef I have encountered anywhere in the world is capable of. There are hits and misses with her food, but when it is on, it can actually change the way you think about food. The Chairman's request to add a frozen element to our holiday meal led not to a dessert, but to a remarkable salad that combined frisee leaves with cranberry sorbet and a
gelee made from kaffir lime leaves. It was an unlikely marriage, but worked well enough for most of the judges to mark it as their best taste of the finale.
1. CINNAMON CANDY CHICKEN WITH VINEGAR – CHEF ZAKARIAN (INGENUITY)
It is fitting, perhaps that my number one spot goes to this season's champion. I suspect my comments on Chef Zakarian's chicken in a sauce of cinnamon candy and vinegar ended up on the cutting room floor because I was simply too effusive about how good it was. The combination of spice, sweet and sour captured the finest flavors of North Africa and Southern Spain. I said at the time that asking Chef Zakarian to cook with this kind of ingredient was like asking Mozart to play a kazoo in a marching band. As I said then and will say again now, the man plays one hell of a kazoo.
Oh, and I just know you are all going to want to know what dishes were my worst tastes of the competition. Thankfully, they were very few and very far between. However, let me make this very clear. I never want to hear the words "popcorn risotto" or "gummy candy panna cotta" ever again. And, if anyone ever offers you "sardine bread pudding," I advise you to alert the local authorities.
More posts from Simon Majumdar.
Similar Posts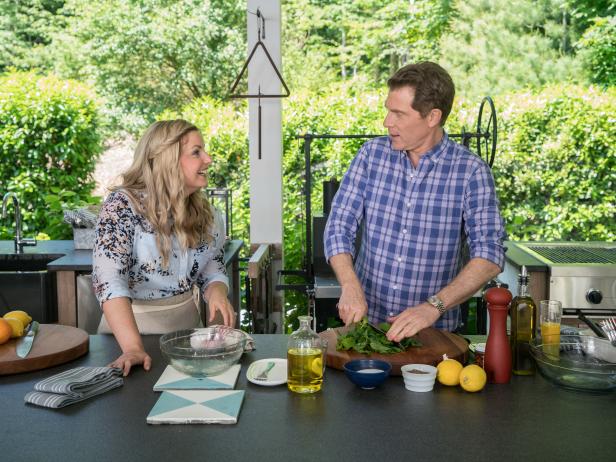 Get the latest details on the all-new series, The Bobby and Damaris Show....