Next Iron Chef judge Simon Majumdar joins us on the FN Dish each week to share his insider's take on what went down Sunday night.
Since my first visit, for the finale of The Next Iron Chef season 3, I have been fortunate enough to find myself at the judges' table in Kitchen Stadium more than a dozen times. Despite the repeated visits, I still get a huge buzz of excitement as I take my place and know that there are literally millions of people in the United States who would give their right arm to swap places with me. It's a great honor and the task of judging is one I definitely do not take lightly.
It was even more of an honor on this occasion as Judy Joo, Iron Chef Symon and I entered the arena to choose the new addition to the illustrious roster in Kitchen Stadium. The previous weeks had seen some of the most intense pressure imaginable, not only on the chefs, but also on the judges as we strove to select the two best chefs for the final challenge. There had been lots of disagreements along the way, but I stand by our choices and know that we were all looking forward to the battle ahead.
To help us make our decision, we were joined on the judging panel by Iron Chef Flay and Iron Chef Morimoto, and it was not long before the Chairman revealed that the task facing the two finalists would be to create the perfect five-course holiday meal from ingredients such as rib of beef, mulled cider, Brussels sprouts and candy cane.
Each chef's approach as they went about their task was an encapsulation of their approach during the whole season. While Chef Zakarian was all about precision, Chef Falkner was all about creativity. It was a clash of two very different styles of cooking, but had one thing in common: absolute respect for the ingredients they were given.
Another similar trait they had shown was the ability to deal with the challenges thrown at them by the Chairman during the previous stages of the competition. It was little surprise to find out that he had even more twists and turns for them during the already-short 60 minutes of cooking time. To help them along the way, they were offered the chance to use the skills of one of their former challengers for a mere 15 minutes each, which led to the appearance of Chef Guarnaschelli in the kitchen, although not quite, I am sure, in the capacity she would have liked.
Any Iron Chef will tell you that an hour is not a long time in Kitchen Stadium, particularly when you have five dishes to create. Both challengers only just managed to plate every dish before they were told to step away from their stoves and prepare to present to the judges.
Chef Falkner was first and started with a zingy cocktail called Christmas in California, a drink that really served to wake up the palate for her first dish of salt cod fritters with black garlic aioli. I liked the former more than I did the latter and felt the sauce overpowered the taste of the fritters.
Her squash and goat cheese agnolotti with a cider sauce was delicious, but I did not think it was until she presented her main course that Chef Falkner really began to hit her stride. I love a good Beef Wellington and believe me, this was an exceptional Beef Wellington. The beef was cooked perfectly and the surrounding mushroom duxelles and blitz puff pastry were just as good.
She would have to top that, but managed to do so with a remarkable salad that combined frisee leaves, a cranberry sorbet and a gelee using lime leaves. There is no way it should have worked, but it did, and in spades. Iron Chef Morimoto selected it as his dish of the day.
Chef Falkner's final course of candy cane chocolate cake was terrific. Well, of course it was. She is a master of desserts and again gave us something new with a "snow" made from the candy cane. It was the perfect end to a very, very impressive selection of dishes and meant that Chef Zakarian had it all to do if he wanted to become the next Iron Chef.
Chef Zakarian went down the luxury route for his presentation and began with an extraordinary risotto using cranberries and sake. It was just as intriguing and unlikely a combination as Chef Falkner's salad and worked just as well.
Alongside his Mad Man Cosmopolitan cocktail, Chef Zakarian served one of my favorite dishes of the day in the form of a tapa of Brussels sprouts with mustard, honey and ginger. While I took note of Iron Chef Morimoto's complaint that it needed a protein to accompany it, I felt it was good enough on its own to warrant considerable praise.
Iron Chef Flay raved about the next course and with good reason. The texture of the cardamom bisque was perfect and the spice had not been allowed to take over the dish. However, I was surprised that a chef whose technique we had called "flawless" on more than one occasion hit a bump with his main course. The gift-tied vegetables surrounding his beef were spot on and displayed subtle hints of the liquids in which they had been poached. My beef, however, was slightly tough, and I felt that the flavors of the cinnamon and capers in the crust had taken over the natural flavors of the meat. While his dessert was delicious, it would have had to have been outstanding to beat a pastry master like Chef Falkner, and I felt that it was down to the rest of the dishes he offered to make up the difference.
With the presentations over, it was time to mark up the scorecards. I can tell you that, after eight weeks, I separated these two remarkable chefs by one single point. I can't speak for the other judges, but I suspect from their faces that it was just as close.
When the Chairman allowed the curtain to drop, it was Chef Zakarian whose face was revealed and who was asked to step forward and join the ranks of the Iron Chefs. He deserved it not only for his performance in Kitchen Stadium, but for his food throughout the competition. He will make a very worthy addition to the pantheon of the culinary greats.
Oh, and mark my words: We certainly have not heard the last of Chef Falkner. She may have been heartbroken by the decision, but as Iron Chef Symon put it so perfectly, she is only beginning to scratch the surface of what she is capable of achieving. I can't wait to find out.
Thanks for reading along for the last eight weeks. I'm off for a rest and a nice cup of tea.
More behind-the-scenes extras from the Super Chefs finale:
More posts from Simon Majumdar.
Similar Posts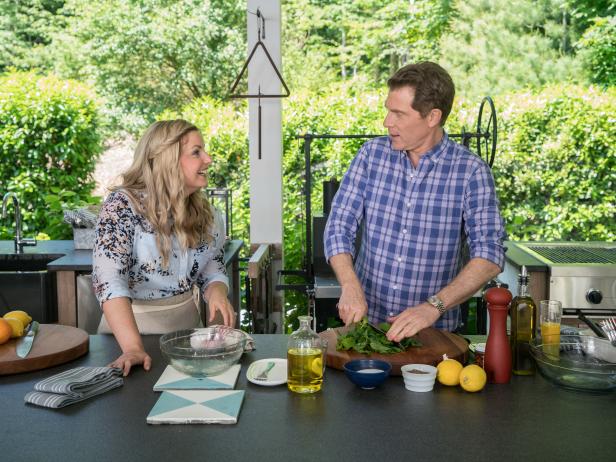 Get the latest details on the all-new series, The Bobby and Damaris Show....