There's officially a new Iron Chef in Kitchen Stadium! Geoffrey Zakarian prevailed in the final showdown, a full-out Kitchen Stadium battle that celebrated the holiday feasts we're all looking forward to right now. Now he's joining the prestigious ranks of Marc Forgione, Bobby Flay, Masaharu Morimoto, Cat Cora, Jose Garces and Michael Symon.
Iron Chef Zakarian is chef-partner at The Lambs Club and The National Bar and Dining Rooms in New York City and Tudor House in Miami. He's also a veteran judge on Chopped. After surviving all 10 of the Chairman's intense challenges, plus a couple of Secret Ingredient Showdowns, we have no doubt that he'll have much success in Kitchen Stadium.
We sat down to chat with Zakarian about the intense Next Iron Chef experience. "It's like the game of golf," says the newly crowned Iron Chef, an avid golfer. "If you have a bad hole, you just go to the next hole and you have to get the last hole out of your head. Anybody can beat anybody any day of the week."
Read on for our exclusive interview.
What inspired you to sign on for this competition? Have you always wanted to be an Iron Chef?
My agent called me and said, they watched you do Chopped Champions and they thought you'd be good for this competition. What do you think? And I said, well, what do you think? He said he thought it would be great and I said let's do it. When you decide to do this, you don't really think that you're going to win it. I thought it would be fun, good to test my mettle; games are fun like that. Why not? I'll try it.
How was the NIC experience different from battling on Iron Chef America as a challenger, or on Chopped All-Stars?
I got killed against Morimoto. I brought out white plates with food; I thought that was really nice. He brings out sculptures of ice, Noah's ark made of balsa wood that he carved at his restaurant downstairs, smoking trees … When I saw that, I looked at my sous chef and I'm like, we're toast.
On Chopped All-Stars it's very difficult and you have a certain time constraint, but you're in a very controlled environment. The kitchen's here, the pantry's here, it's all very close. And even though it's difficult, there's not a lot of running. It's just quick and fun and simple. And I've done it before so I know where everything is. Next Iron Chef, they make it as difficult as possible and tell you as little as possible. It's physically demanding. I didn't realize how physically demanding it was. It's a blur.
The whole thing took about three months. I missed my family most of all. I have two kids. You're in L.A. for two, three weeks — it's not the end of the world, but it's hard. Then we went to San Diego, then to New Jersey, then to Montauk. When we were here in New York, we were staying in hotels. They wouldn't let you go home. So that was weird. I didn't spend much time in the restaurant because any time I had, I was just resting.
Did you know all of the Super Chefs coming in?
I knew of all of them. I didn't know Elizabeth Falkner and I didn't know Spike Mendelsohn — I'd heard of him and I'd seen him on TV. But everyone else I would say I was on a friendly basis with.
Who did you see as your biggest threat on Day 1?
I never saw anyone as my biggest threat. The nature of the competition is that you're your own worst enemy, so I would say. Anybody can beat anybody any day of the week. The most experienced can be beaten by the least experienced. There are plenty of great chefs out there. You look at their resume and you wonder why were they cut? They're amazing. But it's one battle at a time. You need to get through one battle. It's like the game of golf. If you have a bad hole, you just go to the next hole and you have to get the last hole out of your head.
What was it like to compete against your Chopped colleague, Alex Guarnaschelli ?
We had a great time. We're friends. She was breaking my chops a lot, calling me fancy pants and princess. She's good at that. There's no one better at that. She's like the emcee of the show. She's delightful. She's so smart, erudite, well-written. She's sarcastic and a great chef. It's a nice way to spend time with people. She's very interesting as a human being.
What was your favorite challenge throughout the whole competition?
It's had to say any of them are my favorite, since you're getting the crap kicked out of you every day. But when it comes to fascinating and really interesting, I would say the auction. It was fun, very smartly done. A lot of Shakespearean stuff came up, but I enjoyed that. I thought it was a great challenge.
Least-favorite challenge?
One that I had trouble with was the one at the comedy club. I just didn't get it. It was more like a Chopped battle [with octopus, marshmallows, tortillas and kumquats]. But someone got it. So I can't just throw that one away because I didn't do well.
Will anything from NIC make its way onto one of your menus?
Oh, yeah. It already has. We've put a few things here and there. They took away our red books — where is my red book? [We have it.] So I forgot about all this stuff I did. I'm watching the show for the first time. Now I'm seeing it and stuff's coming back that I made, so now when I get the book back, thank you very much, I can take some of that and use it. But we've done a couple of specials after they appeared on the show, like the artichoke barigoule and a crudo.
What was the best thing you saw a competitor make that made you think "I wish I'd thought of that"?
Michael [Chiarello] made a pasta [in the peanut Secret Ingredient Showdown] that was amazing. In 30 minutes he made fresh pasta. That's unheard of.
Did you all taste each other's food?
We couldn't. We weren't allowed because they took it away and that was it. We just saw it.
Where did you watch the show on Sunday nights?
At my house. Last week Chiarello was in town and he came over to watch it with us. I didn't realize that was the one where he got cut! I was like oops, sorry! Have another glass of wine!
You guys have to stay pretty tight-lipped until these episodes air. Did your family even know that you won?
We didn't tell anyone. There are people who will use deductive reasoning, like my partners. But I think we did a good job at muzzling everyone.
Have you completed your first battle as an Iron Chef yet?
I was shocked when they told me congratulations, you won, that's the good news. Then the bad news is that you have six battles next week. That was a bit of a shocker. I was exhausted. And I had Chopped shooting that same week. I didn't have a sous chef lined up; I thought that was bad karma to try to think ahead. So I scrambled. I scrambled the jets, took off and we bombed our target. I think it's gone well.
More behind-the-scenes extras from the Super Chefs finale:
More posts from Sara Levine.
Similar Posts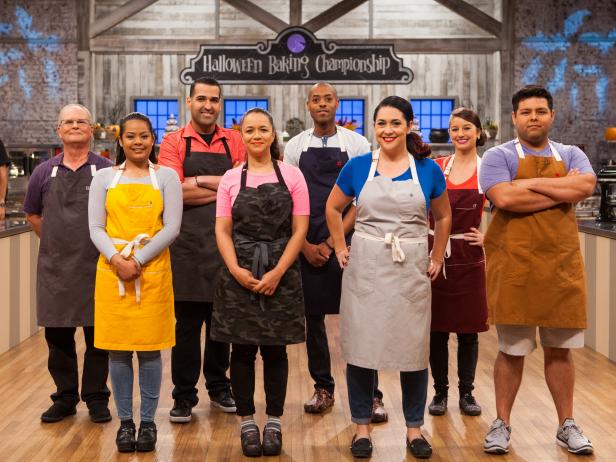 Get the details on the all-new season of Halloween Baking Championship, premiering on Sunday, Sept. 25 at 9|8c....