Next Iron Chef judge Simon Majumdar joins us on the FN Dish each week to share his insider's take on what went down Sunday night.
In the penultimate challenge, the four surviving chefs were given the task of showing us just what truly passionate cooks they could be. To do this they were each handed $500 by Alton Brown and given two hours to source enough ingredients to feed not only the judges but also 20 noteworthy individuals of the Hamptons dining scene.
While they were running around in search of the best fish, seafood and produce they could afford, the judges waited in the comfortable surroundings of the Montauk Yacht Club. I would like to say that we relaxed, but it simply wouldn't be true. Just as the pressure had mounted on the chefs with each elimination, so it was weighing down on the judges each week as we looked into the eyes of the despondent chefs we had to send home.
The pressure was even greater now as we were informed that we would have to choose two chefs to compete for the title in Kitchen Stadium while crushing the dreams of the two others. Michael Symon told me that the thought of the decision ahead was making him physically ill. I could totally sympathize, as Chefs Falkner, Chiarello, Zakarian and Guarnaschelli had all proved time and again that they were each capable of going on to the show.
On returning from their quest the chefs had two hours to cook, the guests started filling up the seats on the terrace and we were led to the judging chamber.
Chef Guarnaschelli was visibly nervous as she entered to present her three seafood preparations of fluke crudo, lobster and chowder. At this stage and with these chefs we were not expecting any major flaws in execution and we certainly did not get any with this offering. There were, however, one or two comments on Chef Guarnaschelli's use of seasoning and she knew that a simple misstep with salt could be enough to end her participation in the competition.
As you may have noticed earlier in the competition, I am a bowl licker. Chef Guarnaschelli had drawn out this unseemly behavior in me once before and now Chef Falkner had done it again with her vichyssoise. It was sensational and rates as one of the best dishes of the entire series. It would have been foolish to waste a drop. There were some negative comments about her food, however. I thought her scallop dish was lacking in the smoke she had used in the cooking process and Michael Symon thought her cioppino was slightly bland. Otherwise it was another exemplary performance from the competition's most creative chef.
In my opinion, Chef Zakarian did not present his most elegant plate of food of the competition and I marked him down. That being said, there was no questioning the fact that each of his dishes tastes superb. That each judge had a different favorite tells you just how good they were.
Finally, Chef Chiarello, our favorite storyteller, entered with what I think were some of his finest culinary moments in the competition. His Tuna Arrabbiata was stunning and his lightly smoked fluke was almost as good, even if accompanied by the most painful pun in living memory. However, while my scallop was cooked to perfection, Iron Chef Symon felt his was slightly overdone, a simple flaw that could prevent Chef Chiarello taking that automatic spot in the finale.
I had Chef Zakarian and Chef Chiarello in my top two spots with Chefs Falkner and Guarnaschelli at the bottom. The other judges differed slightly which made for one of the toughest decisions and heated debates so far. After much argument, we agreed that the chef to be automatically eliminated today was Chef Guarnaschelli. It was not unanimous and we all acknowledged that she would have made a superb Iron Chef, but it simply was not her day.
We were equally lacking in agreement on the top chefs, but in the end the tastes of Chef Zakarian's food, now and throughout the competition, were enough to make us believe he had earned his place in the Kitchen Stadium showdown. If you question how much this meant to him, I can tell you that his legs literally buckled as he was given the good news by Alton Brown.
We made our way back to Kitchen Stadium for the Secret Ingredient Showdown. This time it offered up the challenging prospect of preparing three perfect mouthfuls with wine and crackers. Chef Chiarello brought out my most and least enjoyed bites of the six offered. His chicken liver mousse provided intense flavors and was topped with a piece of brittle that added both texture and sweetness. It was smart and thought-out cooking. However, his goat's cheese topped with Cabernet "caviar" was more interesting than successful and none of the judges liked it very much.
Chef Falkner's presentation was not as good as Chef Chiarello's to my eye and she too had ups and downs when it came to taste. Her chicken mousse was not as powerfully flavored as his, but her shrimp and grits were terrific. Best of all, however, was a highly spiced Indian-style meatball with yogurt raita that was enough to make her my winner. The other judges agreed and that meant that, sadly, Chef Chiarello was the other person to hear the words "I am sorry, but you will not be The Next Iron Chef" from Alton Brown.
He too would have made an impressive addition to the Kitchen Stadium roster. But, after seven hard weeks of judging, Judy Joo, Michael Symon and I had chosen Chef Zakarian and Chef Falkner to duke it out for the title of The Next Iron Chef.
One more battle to go.
More behind-the-scenes extras from Super Chefs, episode 7:
More posts from Simon Majumdar.
Similar Posts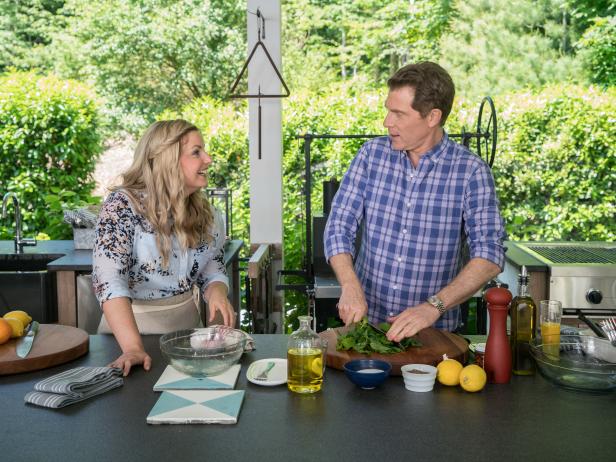 Get the latest details on the all-new series, The Bobby and Damaris Show....