Behind the scenes on The Next Iron Chef, Food Network's culinary production team is responsible for making sure that the rival chefs have everything they need to cook and present their dishes — from a stocked pantry to plenty of serving vessels. They shared some fun facts about what it took to pull off the Grand Central Station challenge in episode five.
How many hours did it take to shoot the Grand Central challenge?
Fifteen hours, during which we had to stop production for five minutes because of a flash mob that took place in the terminal.
Was the Grand Central Market closed to regular customers during the challenge?
The market opened to the public just as we were finishing the shopping scramble, so the chefs had to work around some patrons.
Were any of the market stalls off-limits to the chefs?
Simon Majumdar is allergic to coffee, so even though there was a coffee stall open to them in the market, they couldn't buy anything from there. Alex was the only one who went over to the stall and she asked for the bags that were used during judging with the aromas of NYC inside.
How many bagels were purchased for the Secret Ingredient Challenge?
Thirteen dozen: plain, onion, sesame, poppy, everything, whole wheat, blueberry, cinnamon raisin and pumpernickel. The leftover bagels were then donated to the school we were shooting in.
More behind-the-scenes extras from Super Chefs, episode 5:
More posts from Sara Levine.
Similar Posts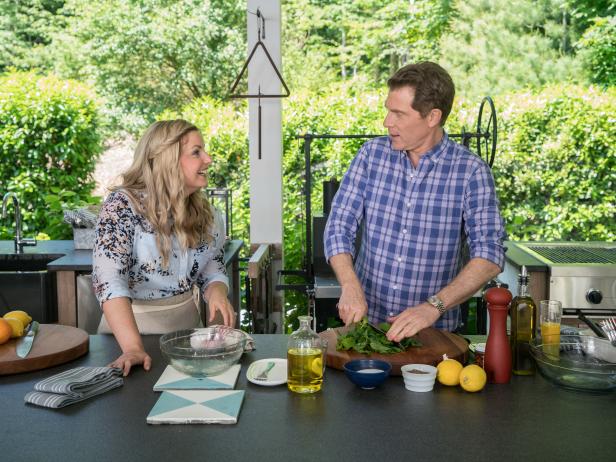 Get the latest details on the all-new series, The Bobby and Damaris Show....