Next Iron Chef judge Simon Majumdar joins us on the FN Dish each week to share his insider's take on what went down Sunday night.
Our next adventure told the tale of two unlikely dishes. One chef transformed a rather nasty ingredient into a dish that completely blew the panel of judges away. The other transformed a decent ingredient into one that I have to hold up as my worst bite of the entire competition.
But, let us not get ahead of ourselves.
There are those who believe that the Chairman has his own special corner of Hades awaiting him for the challenges, twists and turns he throws in the way of The Next Iron Chef contestants. After experiencing the emotions of this latest adventure, I am tempted to join them in that conviction.
This time, the Chairman's challenge to the chefs was to prove that they could take risks, and the five remaining combatants were led into the rarified environs of a high-end auction house. There, Alton Brown informed them that they were not going to bid on priceless art, but priceless minutes of cooking time in which to prepare a single dish using the ingredients he revealed from beneath shining silver domes.
Some, like live Maine lobster and Wagyu beef, brought whoops of pleasure from the chefs. Others, like Chef Burrell's choice of canned sardines, brought less admiring noises. But one, tuna jerky, brought whelps of terror, even from Chef Falkner, who raised her paddle to claim she could prepare it with a scant 30 minutes of cooking time.
Back in the Judging Chamber, we were informed that the three of us were only required to choose one contestant for this week's Secret Ingredient Showdown. In yet another fiendish maneuver, the Chairman had decided that Chef Burrell's "reward" for winning the previous challenge was to act as a fourth judge.
After tasting the dishes of her competitors she could relegate one of them to the bottom two. It was a double-edged sword. On the one hand, she had the chance to remove one of her main rivals. On the other, if she found herself in the unfortunate position of taking the other spot at the bottom of the pile, she would be pitted against the chef she feared most.
Chef Zakarian's dish of Wagyu Salad Nicoise may have appeared to be the least risky choice of all, but any chef will tell you that the richly marbled steaks from this fatty animal are very unforgiving. One slip-up in timing would have meant an inedible dish and valuable points lost. Chef Zakarian is too good a chef to let that happen and, along with an excellent rillettes made from rendered fat, it was enough for us all to mark him highly.
That Chef Guarnaschelli chose to produce a sausage from her whole leg of lamb, rather than make a raw preparation, certainly showed risk. That said, the fact that the sausage was moist and full of flavor showed that she still had the chops to remain in the competition. I had her squarely in the middle of the pack alongside Chef Chiarello.
I was less convinced with Chef Chiarello's Lobster Risotto than my fellow judges. To make this classic rice dish in such a short time was definitely the choice of a risk-taking chef. However, while it was certainly perfectly prepared and delicious, I was hoping, perhaps unfairly given the time he had allotted to him, to see more use of the lobster.
That left us to consider Chefs Burrell and Falkner in the tale of the two unlikely dishes. The look on Iron Chef Symon's face as he heard the words "tuna jerky soufflé" was worth the entrance money on its own. But the moment he took one bite of the dish and its accompanying tuna dashi sauce, his fabulous eyebrows shot skyward and his eyes rolled back in pleasure. He liked it a lot and Judy Joo and I concurred. We had our winner for the day.
That brings us to Chef Burrell, who had more time than anyone else to cook and canned sardines as her main ingredient. She chose the very risky route of presenting three dishes and, as it had with other chefs before, it left her open to three times the criticism. Two dishes were good. In fact, one of them, the deep-fried sardine spines, was fantastic. Unfortunately, her third choice has to go down as my least-favorite taste of the whole season of The Next Iron Chef.
If "tuna jerky" and "soufflé" were not words we ever expected to hear together, at least the outcome of their combination was a pleasant surprise. The final combination of the words "sardine" and "bread pudding" proved as unhappy in the mouth as they sounded in the ear. It was enough for me to mark Chef Burrell down for the Secret Ingredient Showdown.
Although she stood firmly by her decision to name Chef Zakarian as one of the final two, her choice had now come back to haunt her and you could tell by the look on her face that she knew she was up against it if she wanted to stay in the competition. She certainly gave it her best shot, turning panko and ponzu into a delicious and unusual take on the cannoli.
However, she came up against a chef who has been making soufflés for more than 30 years and managed to pull off the feat of preparing a superb example in only 30 minutes. I may not have approved of his rather "home dinner party" approach to the use of powdered sugar, but once we tallied our scores his dish was the very narrow winner.
Chef Burrell looked more crestfallen than shocked as she was told, "I am sorry, but you will not be The Next Iron Chef." The Chairman had struck again.
More behind-the-scenes extras from Super Chefs, episode 6:
More posts from Simon Majumdar.
Similar Posts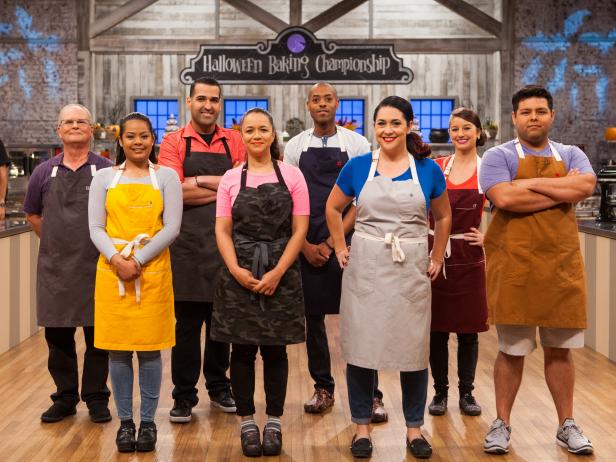 Get the details on the all-new season of Halloween Baking Championship, premiering on Sunday, Sept. 25 at 9|8c....