Behind the scenes on the Next Iron Chef, Food Network's culinary production team is responsible for making sure that the rival chefs have everything they need to cook and present their dishes, from a stocked pantry to plenty of serving vessels. The Concession Challenge was the first that took place on set at the Next Iron Chef kitchen, so we asked the culinary team for an insider's look at what was at the chefs' disposal there.
How many pots and pans are on set for the competing chefs to cook with?
180. There were also 110 mixing bowls.
How many plates, bowls, glasses and accessories were provided for plating?
1,072
3. How many different varieties of flour were offered in the pantry?
11 varieties: all-purpose flour, rice flour, cake flour, whole-wheat flour, 00 flour, semolina, almond flour, chickpea flour, buckwheat flour, hazelnut flour and chestnut flour
How many different grains?
Seven: Barley, bulgar, spelt, farro, cous cous, quinoa and wheatberries
How many different varieties of rice?
Eight: White, brown, wild, Arborio, sushi, jasmine, Chinese black rice and purple sticky rice
How many different nut varieties?
12: Hazelnuts, peanuts, whole unblanched almonds, marcona almonds, macadamia nuts, cashews, pistachios, pine nuts, pecans, walnuts, pepitas and sunflower seeds
How much candy was purchased for the Concession Challenge?
30 boxes cinnamon candy
48 pounds chocolate-covered raisins
4 flats of chocolate-covered malt balls
180 bags sweet and sour candies
20 pounds gummy bears
20 liters root beer
30 pounds chocolate-covered caramels
8 large bags popped popcorn
More behind-the-scenes extras from Super Chefs, episode 3:
More posts from Sara Levine.
Similar Posts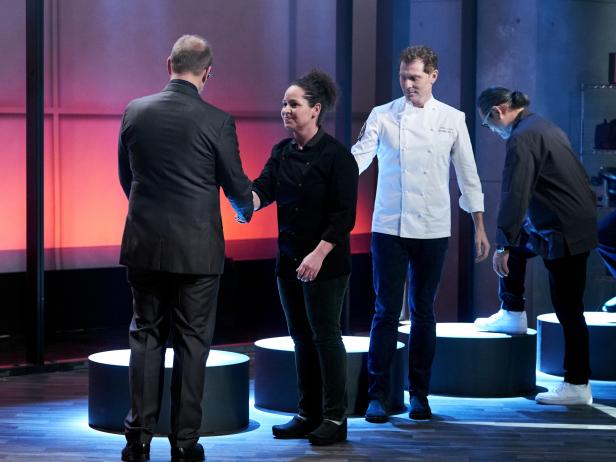 Get the latest details on the all-new series Iron Chef Showdown....