Boost your immune system with vitamin C before cold and flu season sets in by eating more cauliflower. A member of the cabbage family, cauliflower can be boiled, baked or sautéed, but for a well-browned exterior and a flavorful, moist interior, roasting is the way to go.
Start simple with Emeril's Oven-Roasted Cauliflower With Garlic, Olive Oil and Lemon Juice. We bet even the biggest cauliflower-haters will think twice after sampling this quick yet flavorful dish.
Claire's Roasted Cauliflower With Dates and Pine Nuts (pictured above) is a wonderful fall side for those willing to experiment with flavor. Roasting the cauliflower makes it slightly sweet and turns into an unexpected complement to the dates.
Try Guy's Roasted and Pureed Cauliflower as a mashed-potato substitute. With only six ingredients, this side is an easy addition to any weeknight meal.
For a hearty, Italian take on this versatile fall vegetable, make Giada's Roasted Cauliflower With Parmesan and Pancetta. The Parmesan and pancetta mixture makes for a creamy sauce that turns golden brown when breadcrumbs are sprinkled on top and baked.
Anne's Roasted Cauliflower, Brussels Sprouts and Jerusalem Artichokes should smell almost like popcorn when finished. Add just a dash of salt and chopped chives to let the earthy flavor of these root vegetables shine.
Talk to us: What's your favorite way to eat cauliflower? Tell us in the comments or join the conversation on Twitter at #cookingwith.
More cauliflower recipes from family and friends:
The Sensitive Epicure: Cauliflower Souffle
Haute Apple Pie: Cauliflower and Chicken Gratin
CIA Dropout: Cauliflower Squash Soup With Creme Fraiche
Daily*Dishin: Tender Roasted Cauliflower
Virtually Homemade: Cumin Crusted Beef Tenderloin With Cauliflower Puree
What's Gaby Cooking: Cumin Roasted Cauliflower
Thursday Night Dinner: Roasted Garlic and Parmesan Mashed Cauliflower
Cooking Channel: 4 Ways to Cook Cauliflower
Napa Farmhouse 1885: Painted Cauliflower
Big Girls Small Kitchen: Cauliflower Soup With Sharp Cheddar and Thyme
Dishin & Dishes: Cauliflower Gratin
More posts from Victoria Phillips.
Similar Posts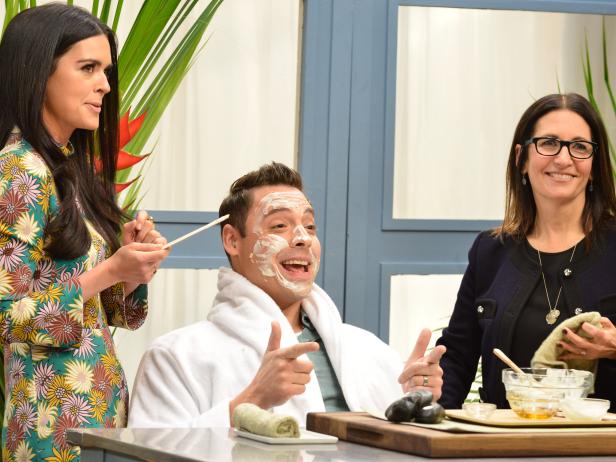 You don't have to travel somewhere exotic to make the most of your time off....