Green, leafy vegetables are abundant at local farmers' markets this month, but none are more in season than Popeye's favorite snack, spinach. Make a power-packed meal rich in iron and vitamins A and C with these crisp, dark-green leaves. The perfect fill-in for any dish, stuff tomatoes, zucchini, mushrooms and more to utilize this veggie's slightly bitter taste without overwhelming the other ingredients.
Make Bobby's Portobello Mushrooms Stuffed With Sausage, Spinach and Smoked Mozzarella as an appetizer, or even a meal. Plump sausage and spinach are a dynamic combo when you toss in plum tomatoes, onion, basil and parsley. Brush the mushroom caps with oil, salt and pepper to bring out the earthy flavor.
Spruce up stuffing with Paula's Spinach Stuffed Zucchini. Add spinach, sour cream and sharp cheddar to chicken-flavored stuffing mix. Spoon the mixture into squash shells for a playful presentation in less than an hour.
Try Rachael's Creamed Spinach Stuffed Tomatoes for a hearty, comforting dish. Top with blue cheese and let it brown in the oven for a delightful finishing touch. Make over-the-top creamy potatoes when you whip up Food Network Magazine's Ham-and-Spinach Spuds (pictured above). Gruyere cheese, thin slices of ham and a pinch of cayenne pepper make this easy meal look gourmet.
Giada's Pork Chops Stuffed With Sun-Dried Tomatoes and Spinach put an Italian spin on a spinach-stuffed dish. The pork chops sear nicely, while the goat cheese, cream cheese and spinach make for a tantalizing blend of gooey, cheesy goodness.
Talk to us: What's your favorite way to eat spinach? Tell us in the comments or join the conversation on Twitter at #cookingwith.
More spinach recipes from family and friends:
What's Gaby Cooking: Spinach-Artichoke Cups
From My Corner of Saratoga: Cannelloni Stuffed With Ricotta Spinach
And Love It Too: Bacon Infused Wilted Spinach
Napa Farmhouse 1885: Spinach-Pesto Tacos With Roasted Tomatillo Salsa
Virtually Homemade: Spinach Pepita (Pumpkin Seed) Pesto
Cooking With Elise: Spinach and Artichoke Fondue
Glory Foods: Creamed Spinach
The Sensitive Epicure: Catalan Spinach With Raisins, Pine Nuts and Bacon
CIA Dropout: Spinach and Cheddar Frittata

More posts from Victoria Phillips.
Similar Posts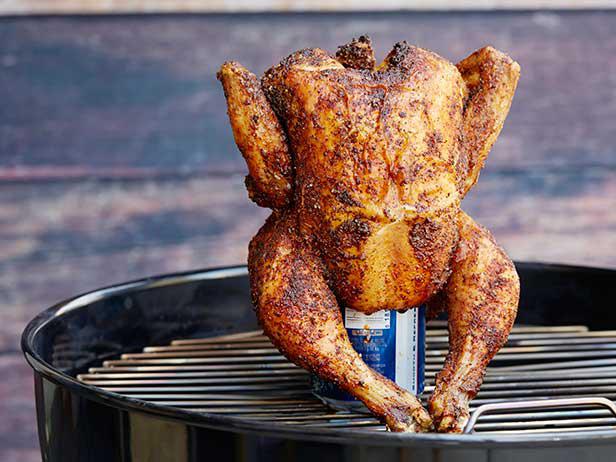 This clever grilling technique is easy enough to perfect even on your first try making it....