With the arrival of fall comes a whole new batch of fresh produce ready to be baked, fried and steamed. Apples are prime for the picking, just waiting for you to bite in with a crisp, juicy crunch. Although apples are often synonymous with flaky, warm pies, there's plenty of time to whip one up this season.
So why not make something savory instead?
Start off simple with Paula's Grilled Apple, Bacon and Cheddar Sandwich With Roasted Red Onion Mayo. Salty bacon makes the crisp apple pop, while the roasted red onion mayo keeps it all moist. Plus, you can't go wrong with cheddar cheese. Turn your sandwich into a pizza when you use the same essential ingredients to make Sandra's Canadian Bacon, Sweet Onion and Apple Pizza. In less than 30 minutes, you'll have an easy weeknight meal.
Make Food Network Magazine's Apple-Cheddar-Squash Soup (pictured above) for a dish that's rich, yet light and warms you up from the inside out.
Make boring chicken breasts fun when you add an apple, onion and cider sauce, or make Robin Miller's fancy Chicken Sandwich With Brie, Shaved Granny Smith Apple and Dijon-Balsamic Reduction on Toasted Challah.
If you've got guests coming over, try Anne's Brined Herb-Crusted Turkey With Apple Cider Gravy. Your kitchen will smell like a mouthwatering mix of rosemary, sage and thyme. Don't be surprised if the crispy skin and tender meat leaves everyone swooning.
Talk to us: What's your favorite way to eat apples? Tell us in the comments or join the conversation on Twitter at #cookingwith.
More corn recipes from family and friends:
CIA Dropout: Apple-Roasted Duck
Cooking Channel: Add Apples to Your Salad
The Cultural Dish: Apple Cider Martini
And Love It Too: Fried Apples (Gluten-Free, Dairy-Free, Soy-Free and Vegan)
From My Corner of Saratoga: Easy Skillet Apple Pie (A Southern Living Recipe Reviewed)
Haute Apple Pie: Baked Apple Pancake
Virtually Vegan Mama: Slow Cooker Apple Date Butter
Big Girls Small Kitchen: Apple Pancakes
What's Gaby Cooking: Apple Cake
FN Dish: Savory Apple Recipes
Napa Farmhouse 1885: Roasted Apple and Caramelized Onion Soup
The Sensitive Epicure: Pan Fried Apple Rings (Gluten-Free)
Glory Foods: Caramel Apple Upside Down Cupcakes
Daily*Dishin: Apple, Bacon, Feta Salad With Maple Vinaigrette
Dishin & Dishes: Old Fashioned Apple Crisp
Cooking With Elise: Wholegrain Apple Oat Pancakes

More posts from Victoria Phillips.
Similar Posts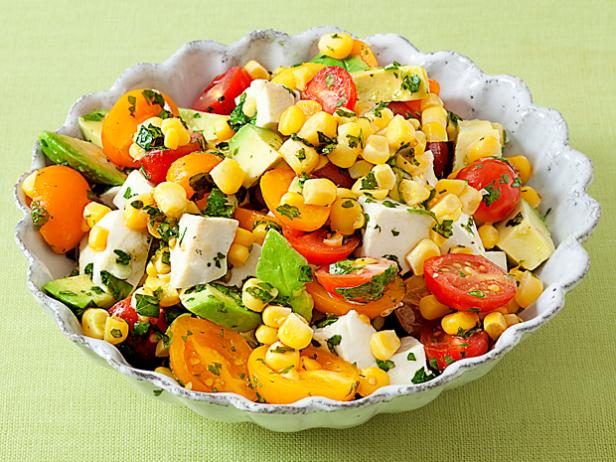 When it's too hot to cook, look no further than these tomato-focused recipes....