The Next Iron Chef: Super Chefs kicks off on Sunday night, and we chatted with host Alton Brown about the fourth season of this all-star culinary competition.
After four years of hosting The Next Iron Chef and 10 on Iron Chef America, Alton has witnessed hundreds of culinary battles, experienced a myriad of secret ingredients and tasted thousands of gourmet plates. We asked him about the difference between a typical Iron Chef battle and that between Super Chefs. He explained, "It's professional, but there's the added tension of having a lot to lose. Every one of those chefs doesn't need to prove anything, but losing still really kind of sucks. There's a lot of tension there because of that."
Of the rivalry between the 10 Super-Chefs, Alton assured us that the battles would be aggressive, but never malicious. "You're never going to see any backstabbing or cattiness; they don't do that," he noted. We would expect nothing less from such professionals as Robert Irvine, Alex Guarnaschelli, Anne Burrell and Michael Chiarello, among others, as they are friends and colleagues outside of the competition, as well.
Always one to watch from the sidelines of the battles and observe chefs' every chop, sauté and presentation, Alton offered what he thinks is the most common mistake made in Kitchen Stadium: "Time management. The back end of the clock running away with them. That's the number one thing.  The last five minutes disappear like vapor. Poof. They're gone." Alton noted that most chefs are able to succeed in plating five dishes within the allotted 60 minutes, though they may not do so "with the level of finesse that they want."
Though Alton has hosted a range of battles including crawfish, hot dog and seaweed, he says there's one that has yet to be challenged that he would enjoy experiencing. "I'd love to see a broccoli battle where the judges are all kids. That's the one that I really want, but I think that it makes the Iron Chefs too afraid. They don't know if they can deal with that, because kids are honest; they don't care who you are," he says. Something tells me that Iron Chef Bobby Flay could make a mean broccoli burger that even children would devour.
Find out whose cuisine will reign supreme on The Next Iron Chef: Super Chefs on Sunday, October 30, at 9pm/8c.
Related: Alton Brown Plays a Bigger Role in The Next Iron Chef Than You Might Think
More posts from Maria Russo.
Similar Posts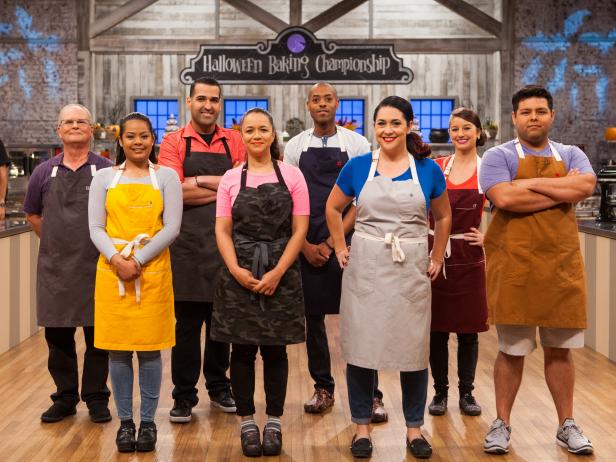 Get the details on the all-new season of Halloween Baking Championship, premiering on Sunday, Sept. 25 at 9|8c....