FN Dish is teaming up with HGTV and the Design Happens Blog over color inspiration. Every month, HGTV's color team brings you Color of the Month, complete with entertaining ideas, home decor recommendations and so much more. This month indigo is in the spotlight, and readers are calling it "calming," "pretty," "lovely" and "organic." Here on FN Dish, we're taking the color of the month and treating your eyes to eye-opening recipes.
The inviting, refreshing taste of blueberries calls to mind the tranquility of the color indigo. In late summer when I was a kid, we used to pile in the family van for a day of blueberry picking at a farm an hour away. We'd tie empty gallon milk jugs with the top half cut off onto our belts for hands-free picking. Belt secure, I'd go running under the bushes, grabbing double fistfuls of the indigo orbs, but I'd skip the bucket and stuff my face — then get scolded later for eating more than picking.
On the ride home, I'd reach over the back seat for more, eating so many berries my tongue would turn blue. Hard to believe, but we did have enough left over to freeze and use all winter in pancakes, pies and on granola.
I still adore blueberries and how easy it is to add them to any meal. If you think it's a coincidence that blueberries sport such an attractive indigo and are good for you, think again. The toxin-fighting antioxidants in berries actually give these smooth, frosty morsels their deep hue.
Double up on your antioxidants and get your indigo fix with Blueberry-Almond Bruschetta from Food Network Magazine. Try it as a sweet and savory appetizer before a relaxing family dinner, or top off a fruit pizza with blueberries for a fall tailgate. Lucky for us, there are still a few days left to get fresh blueberries at the store or, even better, fresh off the farm.
How do you like to use blueberries? Tell us in the comments.
You Might Also Like…
More posts from Marissa Bell.
Similar Posts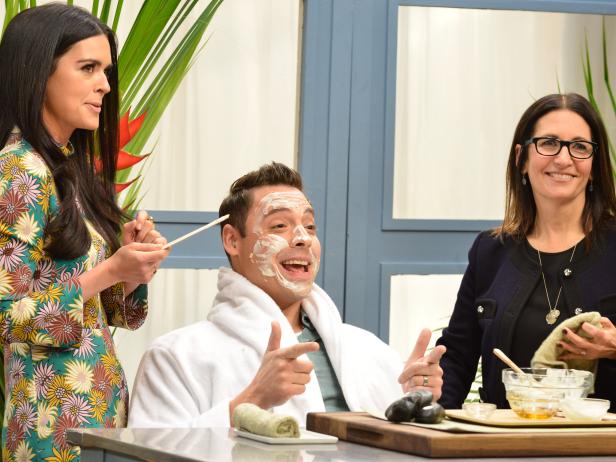 You don't have to travel somewhere exotic to make the most of your time off....