It's week four of our season-long garden party, Summer Fest 2011, where we welcome food and garden bloggers to feature garden-to-table recipes and tips. We'll help you to enjoy all that this season has to offer. So far, we've delved into cucumbers and peaches. 
Classic pairings like peanut butter and jelly, cheese and crackers and spaghetti and meatballs always get recognition, but what about a savory combo that'll send your taste buds soaring? Broccoli and cheddar are not only meant for each other, but they also add full-bodied flavor to soups, frittatas, potatoes and even casseroles.
Vibrant, emerald-green broccoli — a cabbage relative — reaches its peak in the coming months, so take advantage of the veggie's vitamin A, C, iron and calcium before the doldrums of winter set in.
Start off with hearty Almost-Famous Broccoli-Cheddar Soup (pictured above) from Food Network Magazine. Sharp white and yellow cheddar cheeses make fresh broccoli florets pop, while a sourdough bread bowl is perfect for sopping up every last drop. If you'd rather eat your broccoli without a spoon, try the magazine's Broccoli-Cheddar Potatoes. Load potatoes high with broccoli, bacon and spinach, then add a dollop of sour cream on top for a symphony of flavor.
The Neelys' Broccoli-Cheddar Cornbread is full of down-home flavor and comes together in under 40 minutes. For even more comfort food, make Paula's Broccoli Casserole. Packed full of broccoli, cheddar and eggs, a sprinkling of crushed crackers gives the crust a satisfying crunch.
Or lighten things up with Ellie's Broccoli and Cheddar Frittata. Eggs, cheddar and, of course, broccoli are the perfect way to start your Sunday.
Talk to us: What's your favorite way to eat broccoli? Tell us in the comments or join the conversation on Twitter at #cookingwith.
More broccoli recipes from family and friends:
What's Gaby Cooking: Charred Lemon Broccoli
Purple Cook: Pickled Broccoli Chips
Daily*Dishin: Quick Broccoli and Toasted Walnut Saute
From My Corner of Saratoga: Broccoli with Garlic-Lemon Vinaigrette
Cooking Channel: Broccoli Stir-Fry
Virtually Vegan Mama: Vegan Broccoli Salad
Virtually Homemade: Broccoli Frittata
Zaika Zabardast: Char-Grilled Broccoli with Cherry Chilies and Garlic Tadka
Glory Foods: Steamed Broccoli-Vegetable Medley
Food2: Slammin' Broccoli Soup
Easy Peasy Organic: A Hands-On Approach to Eating Broccoli
More posts from Victoria Phillips.
Similar Posts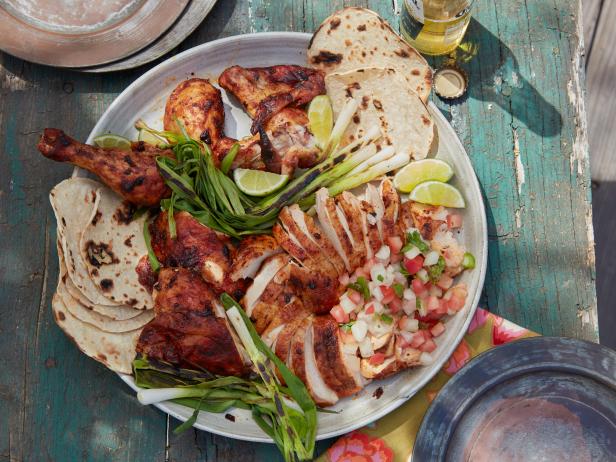 A little preparation means you can enjoy cookouts as much as your guests....