Anne Burrell has been hitting the bowling lanes in preparation for her Sept. 29 event, Rock & Bowl, at this year's New York City Wine and Food Festival. Metromix New York has exclusive photos of her practice session at a retro New York bowling alley. Wearing size nine bowling shoes and a mismatched pair of pink-and-yellow socks, she admitted her first ball was a gutter ball.
Mark Dacascos burned some rubber doing several laps on the new surface of Phoenix's International Raceway. Speedway Digest reports that the Iron Chef chairman exceeded speeds of 100 miles an hour and found the experience to be "the best video game in the world."
Masaharu Morimoto is serving sushi for the US Open at the National Tennis Center's ACES restaurant and in the luxury suites where celebrities relax. "The Open hopes to meet the high culinary expectations of New Yorkers by offering food from the Iron Chef and makes it a goal to improve their menu each year," Bloomberg reports.
Guy Fieri's Facebook page featured a photo of him alongside his new line of sauces available in grocery stores nationwide this week. Costco now sells a meat variety pack that's marinated with Guy's sauces; details are available on the Costco website.
The Food Network Fans are constantly looking for info and sharing links on where we can find favorite stars, discuss favorite shows, visit a book signing, or see an appearance in other venues. We invite you to stop by and visit at FoodNetworkFans.com.
More posts from FN Dish Editor.
Similar Posts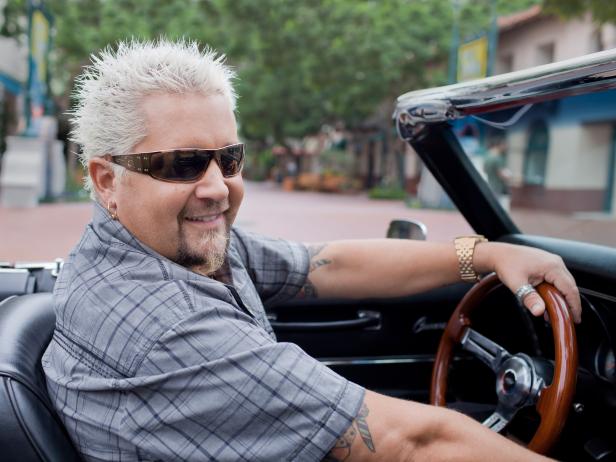 Get the first look at Guy Fieri's upcoming series, Guy's Family Road Trip....