I know I love the cooling effect that a midsummer Mojito has on my system, but I didn't realize that mint in general is a great antidote to hot weather. It makes sense, considering how popular mint tea is in arid countries like Egypt and Morocco. I'm not sure I'll be drinking hot mint tea anytime soon, but I'll definitely be adding this soothing herb to my summer fare.
In the morning I'll use it in Food Network Magazine's Mint Limeade (pictured above). For a post-work treat I'll toss it into a bourbon-spiked Mint Julep.  While I normally think of basil when I think of pesto, Giada's Pea and Mint Pesto Crostini is an inspired take on the classic. For a completely no-cook appetizer, Paula's Watermelon Salad With Mint Leaves is the best bet. It's simply dressed in olive oil and red wine vinegar, then sprinkled with feta cheese and mint.
Bobby's Mint Marinated Grilled Shrimp Tabbouleh Salad uses mint in both the lemon and garlic-tossed bulgur salad and in the marinade for the grilled shrimp. Lamb chops are great with mint, as well. Try Grilled Lamb Chops With Mint to cool down your whole cookout.
Of course, you can always stick with the classic Mojito: Fresh mint and lime are muddled and then mixed with white rum, sugar and seltzer. Use the heat as an excuse to drink more than one.
More posts from Cameron Curtis.
Similar Posts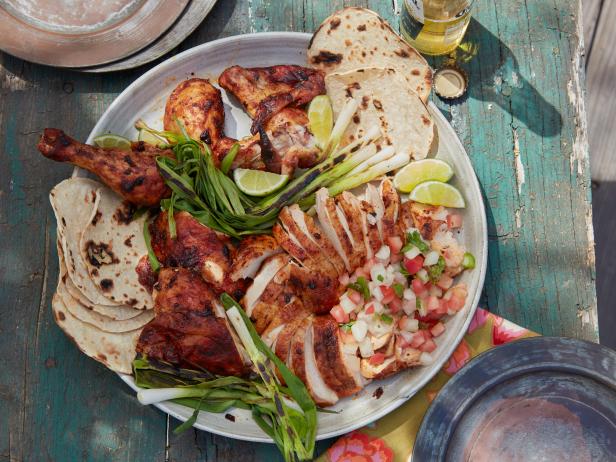 A little preparation means you can enjoy cookouts as much as your guests....