We're teaming up with food and garden bloggers to host Spring Fling 2011, a season-long garden party. In coming weeks, we'll feature favorite garden-to-table recipes and tips to help you enjoy the bounty, whether you're harvesting your own goodies or buying them fresh from the market. Recently, we dove into the world of artichokes and strawberries. Today, we're exploring peas.
There are many varieties of pea, all members of the legume family. Some, like the English pea (the common garden pea), are grown to be eaten fresh and removed from their pods. Others, like the snow and sugar snap pea are eaten pod and all. When choosing English peas, make sure they're bright green and the pods are swollen and firm — stay away from discolored pods.
So you've done all the work — shucked the pods and now you have your individual peas. While you've probably eaten peas as a side dish or slurped split pea soup, have you tried incorporating them into main dishes? This week, try one of these five-star recipes showcasing this sweet and delicate vegetable.
Five-Star Pea Recipes
*For recipes that call for frozen peas, swap in fresh
Ina's Pasta, Pesto, and Peas
Tyler's Salt and Pepper Salmon With Smashed Potatoes and Peas
Rachael's Chicken With Roasted Red Pepper, Chorizo and Sweet Pea Sauce Over Rice
Giada's Pasta With Peas and Carrots
Bobby's Sweet and Sour Chicken
Editor's Tip: After you've shucked the green peas, freeze the pods for future soup stocks.
Talk to us: What's your favorite way to eat peas? Tell us in the comments or join the conversation on Twitter at #cookingwith.
More pea recipes from family and friends:
A Way to Garden: Peas Lost to Pests
Food2: Peas ' n Pasta:  A Match Made in Heaven
Gaby at What's Gaby Cooking: Fresh Pea Risotto
White on Rice: Potato and Pea Salad
More posts from Sarah De Heer.
Similar Posts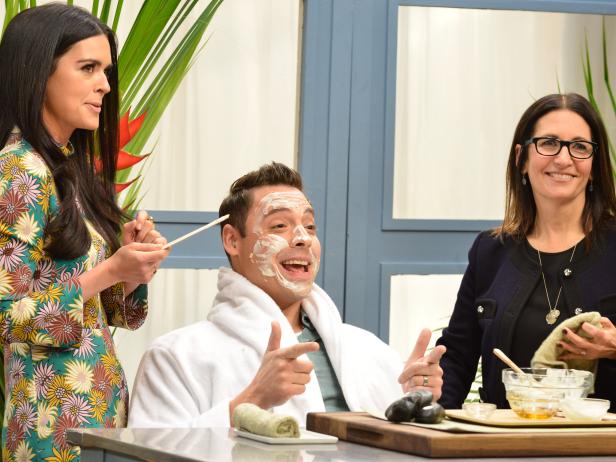 You don't have to travel somewhere exotic to make the most of your time off....