We're teaming up with food and garden bloggers to host Spring Fling 2011, a season-long garden party. In coming weeks, we'll feature favorite garden-to-table recipes and tips to help you enjoy the bounty, whether you're harvesting your own goodies or buying them fresh from the market. Recently, we dove into the world of asparagus — today, we're exploring rhubarb.
Rhubarb is a large reddish, celery-like stalk with large green leaves. Even though rhubarb is commonly paired with strawberries to create tarts, cobblers and pies, this lengthy root is a vegetable. It tends to be tart, needing the addition of ample sweeteners like sugar and additional fruits.
Here's how to incorporate rhubarb in your Mother's Day menu:
Appetizer
Roasted asparagus is topped with a sauce made from shallots, rhubarb and white balsamic vinegar.
RECIPE: Roasted Asparagus with Rhubarb Vinegar
Brunch
Rhubarb is cooked with sugar, lemon juice and vanilla extract until soft. Before serving, mix it with strawberries and top with Greek yogurt and toasted almonds.
RECIPE: Rhubarb Crumble

Dessert (pictured above)
A Brown Betty is a dessert that dates back to Colonial times and is made from fruit and sweetened crumbs. Here, panko is combined with brown sugar, cinnamon, allspice and ginger.
RECIPE: Grilled Rhubarb Brown Betty
Drink
Rhubarb is pureed with frozen strawberries, ice cream, vodka, and Cognac in a blender until smooth for an adult milkshake.
RECIPE: Cool Rhuby Cordial
Talk to us: Will rhubarb be on your Mother's Day menu? Tell us in the comments or join the conversation on twitter at #cookingwith.
More rhubarb recipes from family and friends:
Food2: The Savory Side of Rhubarb
Pinch My Salt: Strawberry-Rhubarb Fool
Healthy Eats: Rhubarb Chutney
White On Rice Couple: Rhubarb Crumb Bars
What's Gaby Cooking: Rhubarb Margarita
A Way to Garden: Making Sweet Order of Rhubarb
Cooking Channel: In Season: Rhubarb
Browse more of Food Network's Mother's Day recipes.
More posts from FN Dish Editor.
Similar Posts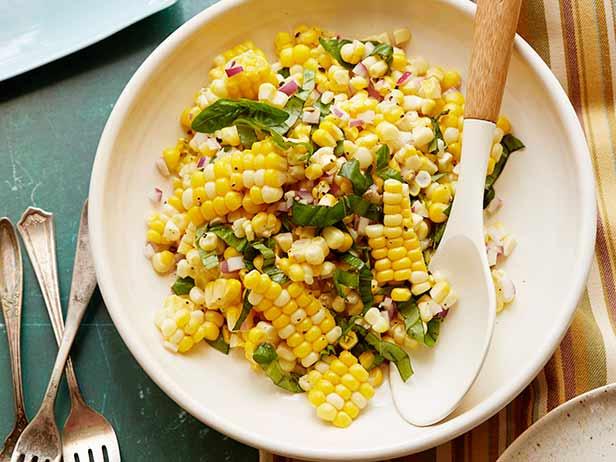 Think beyond the usual presentation of corn with butter and salt....