If you've been invited to a party this upcoming Memorial Day, chances are you've also offered to help cook or bake something. But what can you bring that can be made ahead, travels well and holds up to the weather (which is hopefully warm)?
Here are some helpful tips to keep in mind:
1. There's a good chance that your host's refrigerator will be packed that day, so if your dish has to be kept cool until serving, bring along your own carrier with ice packs — the thought will go a long way.
2. Transport your cooler in the air-conditioned car, not in the trunk.
3. Come prepared with your own serving utensils just in case your host has run out.
Now browse through Food Network's travel-friendly recipes:
Salads: When it comes to salads, try and stay away from recipes that include mayo. If your recipe calls for a dressing, wait until you are about to serve the dish to mix it in.
Poppy-Seed Potato Salad (pictured above)
Daikon-Carrot Salad
Avocado Salad

Mains:
Buttermilk Fried Chicken: The great thing about fried chicken is that you can eat it at room temperature, plus it's a great variation on the usual burgers and dogs.

Desserts: If possible, stay away from sweets that are frosted — unless you have the right plastic container, there's a good chance your perfect frosting job will get ruined en route to the party.
Paula's Toffee Brownies (pictured above)
Bobby's Blondies
The Neelys' Simple Lemon Bars
Browse more of Food Network's Memorial Day recipes.
More posts from Sarah De Heer.
Similar Posts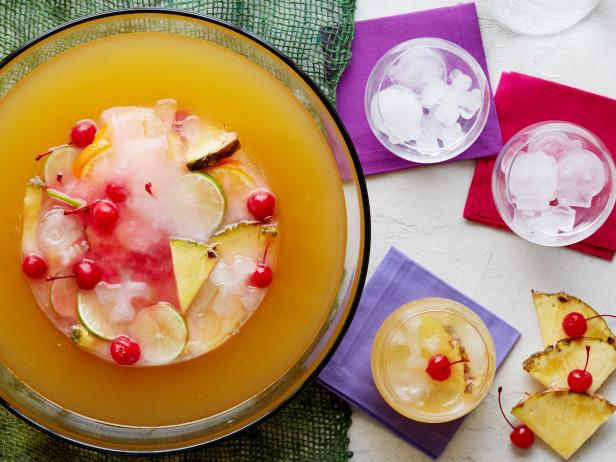 From formal events to backyard barbecues, punch is a party favorite for the ages....