You've seen Guy's Weird Spaghetti and Giada's Baked Macaroni and Cheese Cupcakes. Let us now introduce you to a few more unexpected oddities, this time, those on a stick. From salad and tortellini to French toast and mozzarella, the possibilities of food on a skewer are simply endless. Check out our fun and easy recipes for breakfast, lunch and dinner that can be stuck on and bit off with ease.
Who says you have to eat salad with a fork? Food Network's unique recipe for Salad on a Stick (pictured above) is the ultimate way to have fun with your food. Iceberg lettuce, cherry tomatoes, cucumber and carrot slices are layered high and drizzled with a creamy blue cheese dressing.
Serve your kids cool French Toast Kebobs from Food.com and they'll actually want to eat breakfast before school. Cubes of baked bread are stacked high on a stick in between layers of fresh berries and bananas. Dunked in warm maple syrup, these kebobs are a sweet morning treat.
Mario Batali's recipe for Mozzarella Skewers With Anchovy Sauce from Cooking Channel is an indulgent appetizer that is packed with flavor. Cubes of bread and fresh mozzarella are threaded on skewers, quickly sautéed and topped with a light olive oil-anchovy sauce. These savory sticks will go quickly, so be sure to make extras.
Food2's recipe for Tortellini Kebobs With Olives and Mozzarella is one pasta dish that is neat enough to eat with your hands. Dip these Italian kebobs in a pesto or marinara sauce for a hearty appetizer or simple lunch.
More posts from Maria Russo.
Similar Posts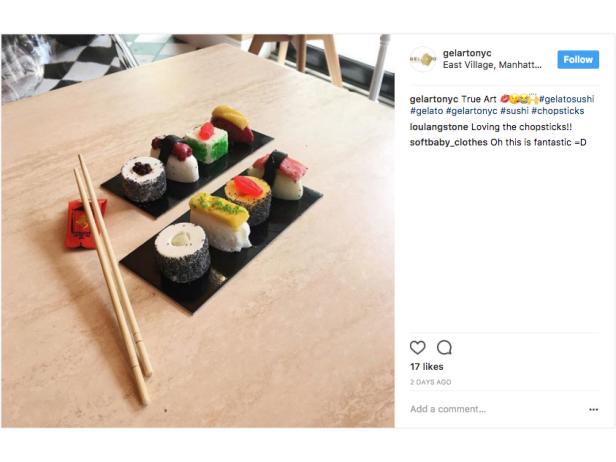 Nothing says summer whimsy like gelato in the shape of pieces of nigiri. ...