The Final Four of Chopped All-Stars: Anne Burrell, Nate Appleman, Michael Proietti and Aarón Sanchez.
In this corner: Chef Michael Proietti, a fan favorite from season 5 of The Next Food Network Star, competing on behalf of the Jed Foundation;
Next: Chef Nate Appleman, James Beard Award Winner, Food & Wine magazine's Best New Chef cover boy, Iron Chef America challenger and competitor on The Next Iron Chef, cooking for the Kawasaki Disease Foundation;
And then: Chef Anne Burrell, star of Secrets of a Restaurant Chef, co-host of Worst Cooks in America, and longtime right hand for Mario Batali on Iron Chef America, competing to help the Juvenile Diabetes Foundation;
And, finally, the Chairman of Chiles, the Tortilla King: Latin-cuisine impresario Chef Aarón Sanchez, beloved Chopped judge, veteran of Iron Chef America and The Next Iron Chef, co-star of Chefs vs. City, playing for the Greater New Orleans Foundation.
The day had finally come. We started with 16 chefs competing for $50,000 to be awarded to a charity of their choice and in the end, it all came down to dessert. I don't think we've ever seen competitions this close or food this outstanding. This competition has been rigorous for the contestants but almost equally challenging for the judges. Every deliberation in this All-Stars series has been tough. These contestants have been consistently dishing up truly killer food under nearly impossible conditions.
All-Stars judges Marc Murphy, Alex Guarnaschelli and Marcus Samuelsson faced tough decisions on the chopping block.
I've said it before, but it bears repeating — with this caliber of contestants there is virtually no room for error. Unfortunately, Chef Michael Proietti learned this the hard way right out of the gate. By grabbing the blender instead of the mixer, Chef Michael made a mistake that sent his appetizer to the block. The heat from the motor cooked his eggs slightly, which caused his aioli to break down. He gave us two great performances.
If the contestants thought the rabbit kidney in the Appetizer basket was a tough protein to handle, that was nothing compared to the goat in the Entrée basket. Judge Alex Guarnaschelli wasn't far off when she said that there were four contestants in the entrée round and the goat certainly was a presence. All three contestants struggled with how to cook the less-than-tender protein in the 30-minute time allotment. Once again, Chef Nate pushed himself to think outside the box and he grabbed the meat grinder — a tool never before used in the Chopped kitchen! Chef Anne broke the goat down like a professional butcher but was a little heavy-handed with the tomato paste — a mistake that cost her the competition. Anne, you are a rock star!
For Chef Nate, it all came down to dessert. He fought hard for his charity, the Kawasaki Disease Foundation.
Turning the final corner to the dessert round, Chef Nate and Chef Aarón were neck-and-neck. But after the entrée round basket, the dessert basket certainly seemed like a vacation. A vacation with $50,000 riding on it — $50,000 that would have a huge impact on one of the chosen charities. Chef Nate used the dessert strategy that won him the last competition: He raced to the ice cream machine, and he got it, pretty much assuring that Aarón couldn't use it (he'd have to have had enough time left for it to work, plus, he'd have had to clean it out). With ice cream off the table, Chef Aarón decided to risk creating a chocolate cake. Everything was riding on that cake. Unfortunately, it came out of the oven a little dry—and this season of Chopped All-Stars was history.
It was tough to see our dear compadre Aarón take the long walk down that hallway and through the sliding door. But he was a valiant competitor, he won one episode and made it to the last round of the big kahuna, and that makes all of us very proud. And then, seeing Nate's son, who survived a rare heart problem known as Kawasaki Disease, really brought home how personal this competition was for him.
Thanks for watching Chopped All-Stars—five of the most exciting episodes we've ever made, in my opinion. Somehow, I think the series will be back…
All best, Ted
New York City
Want more of Ted's witty commentary? Follow @ChopTedAllen on Twitter.
More posts from Ted Allen.
Similar Posts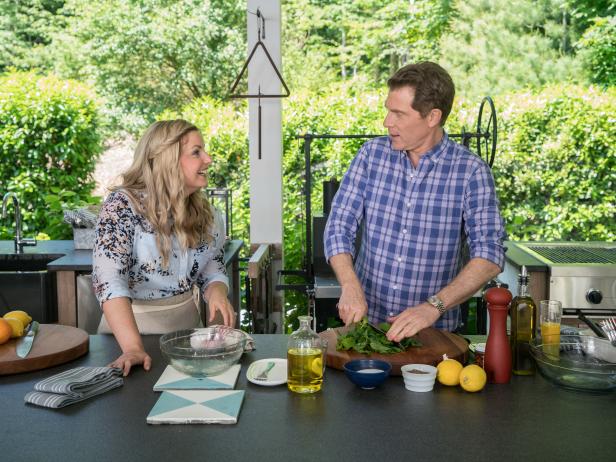 Get the latest details on the all-new series, The Bobby and Damaris Show....