Paula and fans gather for a photo, and some Food Network Magazine treats.
Paula's been busy y'all! She was in New York City all day yesterday, first co-hosting the Today Show, then making a stop at Food Network Magazine's treats truck. Did you catch her on Today or spot her in the city? Get a recap of her appearance on the show and see what else Paula's been up to.
Hoda and Paula on Today, yesterday.
The Lady co-hosted The Today Show with Hoda (Kathie Lee had the day off, she was looking at colleges with Cassidy) and chatted about her grandchildren — she has one grandson, Jack, and her son Jamie and his wife, Brooke, are expecting a little boy, as is her stepdaughter, Michelle. Paula revealed that Jack calls her "Guinea" since the 4-year-old isn't able to pronounce "Granny." Check out a clip of the show — Kathie Lee has some stiff competition; Paula was a natural and had Hoda cracking up nonstop.
Paula and Hoda also chatted about the recent Internet sensation Paula Deen Riding Things. It seems that a stunt at this year's South Beach Wine and Food Festival involving Paula and Robert Irvine has sparked a website featuring Paula riding various random objects.
The photo that started the sensation: Paula riding Robert Irvine. Photo courtesy of Paula Deen Riding Things
Paula Deen riding the Twitter Fail Whale.
Do you follow Paula on Twitter? She had this to say about her Today Show appearance, "Was that fun or what!" and pleaded followers to vote for Kathie Lee and Hoda in Esquire Magazine's Sexiest Woman Alive contest.
After her stint on the Today show, Paula made a surprise appearance at Food Network Magazine's treats truck. The truck was driving around the city yesterday, in celebration of the magazine's new cookbook: Great Easy Meals, giving away treats featured in the book. Paula was having lunch nearby when she saw the truck, so she stopped over to say hello to fans, and possibly, to try out a Cheesecake Pop from the book.
Paula, fans and the treats truck.
Still can't get enough of Paula? (Never, right?) Check out her Facebook page, where she's posted behind-the-scenes pics from the filming of a Halloween episode of Paula's Best Dishes, for which she dresses up as Lucille Ball.

Food Network's favorite funny lady as television's other funny lady.
What's your favorite Paula moment, y'all?
More posts from Michelle Buffardi.
Similar Posts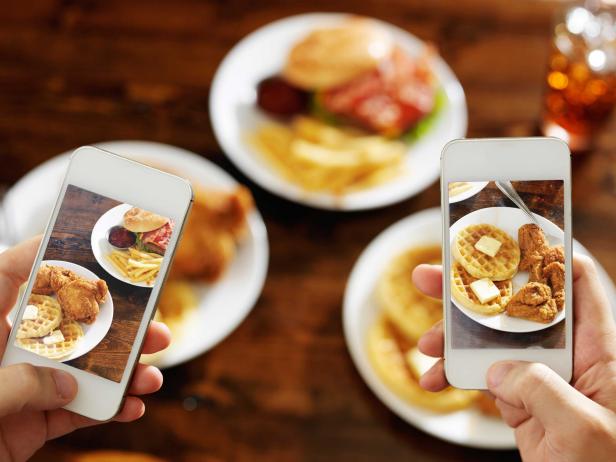 Artificial intelligence can now help you get the recipe for a dish just by uploading a photo of it....