Louie and the Redhead Lady in Mandeville, LA celebrated its DDD appearance with this tasty tribute to Guy. Image courtesy Louie and the Redhead Lady.
It's not news to anyone that Guy Fieri is a total rock star. His "Chef-Dude" magnetism has been chronicled by the New York Times: It all started with his win on The Next Food Network Star; then came Guy's Big Bite and soon after, the wildly popular Diners, Drive-ins and Dives. More recently there's been Tailgate Warriors, a game show and cooking demonstrations that rival sold-out pop concerts. When Guy's yellow Lamborghini went missing a couple of weeks ago, it was national news.
Diners at Louie and the Redhead Lady watch Guy's visit to the restaurant on a continuous loop.
But Guy's rock-star status was never more evident to me than when I stumbled upon a mom-and-pop restaurant in Mandeville, Louisiana (a suburb across Lake Pontchartrain from New Orleans), that had received a visit from Triple-D. The episode featuring Louie and the Redhead Lady aired this winter, and Chef Louie and his wife Ginger (a.k.a., you guessed it, the Redhead Lady) are still flying high from the experience — and the huge boom in business that it set off.
A young server sports his uniform: "As seen on Diners, Drive-ins and Dives" t-shirt.
Upon entering the personality-packed restaurant, Guy and DDD memorabilia is literally everywhere. There's a shout-out on the menus, on the servers' t-shirts, on the bottles of hot sauce and Cajun seasoning that they sell. A flat-screen TV mounted on the wall plays a continuous loop of Louie's segment on the show. Guy even makes an appearance in the bathroom, where a quote is scrawled out on the door: "If I lived within 100 miles, I'd eat here every week!" — Guy Fieri.
Since the episode of DDD aired in January, the out-of-town visitors map is filling up fast.
Since the show aired, Chef Louie tells me his business has doubled. He hired five new people and now meets guests visiting from all over the country. Hence the large map of the U.S. that he's posted on one wall of the restaurant. Visiting diners can mark their hometowns with push-pins, and it's getting crowded fast. I could barely find space for my pin in the New York area — it ended up in the Atlantic Ocean.
New Orleans is surely a tourist destination, but visitors usually don't venture 40 minutes across the lake for Oysters La Luzianne, grits and grillades, and fried green tomatoes topped with shrimp. Well, now they do…thanks to Guy.
Want to visit a Guy-approved spot in your neck of the woods? Check out the brand-new Food Network Local for the full rundown on restaurants from Diners, Drive-ins and Dives, The Best Thing I Ever Ate and more favorite shows.
More posts from Sara Levine.
Similar Posts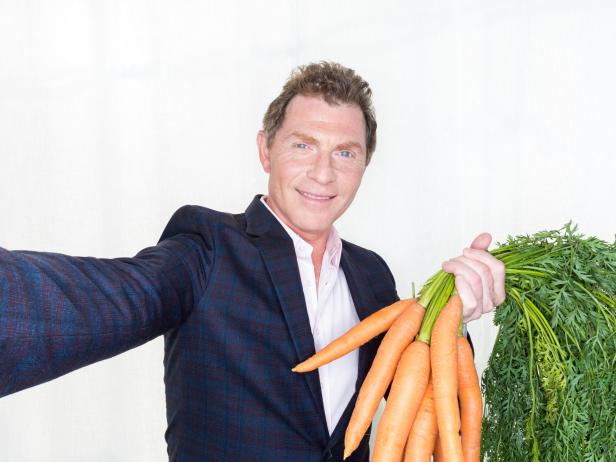 Food Network star Bobby Flay is no stranger to the idea that people want to eat more fruits and vegetables....