Carlos was a little timid with the flame...and with the seasoning on his final dish.
After each elimination on Worst Cooks in America this season, chefs Anne Burrell and Robert Irvine share their candid impressions of the booted recruits with the FN Dish. In the last challenge before the finale, they bid farewell to Kelsey from Robert's Team and Carlos from Anne's Team.
Anne on Carlos: This is when their families came! It was a little fire; it boosted them. They were really lonely; it had been a long time. I can't imagine doing what they did, quite honestly. They completely had a breakdown when they saw their family members. Carlos was really cute; his sister came and he cried. We asked them what do they like to eat, and Carlos's sister said a Thai dish. I gave him a lob; that's how easy this dish was. I was begging him the entire time: Show us your personality. Let it come out. This is the time to let it rip. I remember saying that to him so many times. He's like, "I love spicy food," and then he made the drippiest, personality-less Thai dish. There was no spice, no big flavors. He was great; his mise en place was always so good; his shrimp was cooked perfectly. I really thought for a while that Carlos was going to be my guy.
Kelsey spent the first half of Boot Camp on Chef Anne's team, but really made progress once she moved over to Chef Robert's team — at least that's what he says!
Robert on Kelsey: I was shocked that Anne sent Carlos home. I thought this was going to be her soldier. Kelsey's husband came. He was deer hunter guy. He loves to hunt, so she wanted to make him venison. She went from burning everything to serving it raw, still bleeding. And it was such a shame because she knew how to cook it. She did well when she moved over to my team; she turned a corner. The pan wasn't hot when she seared it; all the things that she had been taught, she didn't do. That was heartbreaking. She was so afraid of burning everything, so she overcompensated.
Don't forget to vote for your favorite Worst Cooks recruit in our Fan Vote, up to 10 times per day.
More posts from FN Dish Editor.
Similar Posts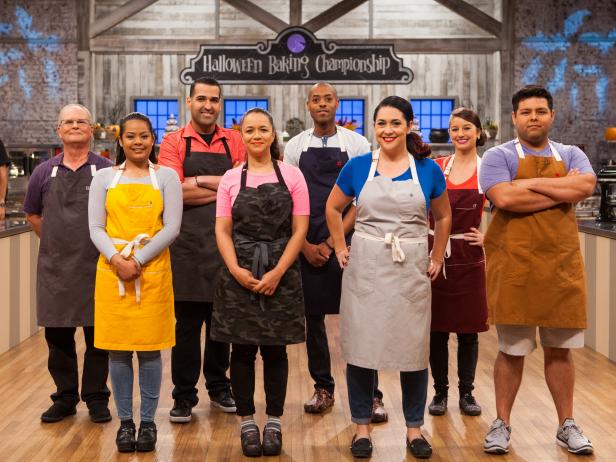 Get the details on the all-new season of Halloween Baking Championship, premiering on Sunday, Sept. 25 at 9|8c....