Homemade marshmallows, like these from the Barefoot Contessa, will be a Twin Cities food trend this year, reports MetroMix.
During our time hunkered down in the Food Network Kitchens research labs formulating our 2011 FNK Forecast, we rounded up dozens of previews and predictions from all over the web, ranging from the thoroughly focused grouped and methodologically rigorous to the wildly guessed at and purely intuitive. Food trends, like food itself, are a subject nearly everyone has an opinion about. And round about the New Year, everyone, ourselves included, starts speaking up. Now that the year is beyond its New Year's hangover, what food trends are popping up in your neck of the woods?
While for our own purposes we wanted to keep our focus national and our trends fairly general, we took a particular interest in those prognosticators who worked a local angle and taught us something about the burgeoning culinary scenes in cities around the country. We enjoyed these so much, we thought we'd share them to give you an idea of what to expect for the rest of 2011.
What's NEXT on CHICAGO's Culinary Horizon, Time Out Chicago
In brief: Bicycle delivery, in-house butchering, beef, whole fruit desserts and a radical new restaurant concept from the great avant-garde chef Grant Achatz.
BOSTON Chefs Talk 2011 Trends, Boston Globe
In sum: Modern Mexican, Japanese ingredients, small pies, comfort food on the wane, sustainable seafood on the rise.
PHILADELPHIA Culinary Trend-Spotting for 2011, Philadelphia Inquirer
Look for more: Small/focused/chef-driven restaurants, organic foods and gluten-free cooking.  The return of luxury dining will return, the persistence of comfort food.
5 NYC-Centric Food Trends for 2011, Village Voice
Nordic cuisine, house-made candy bars, micro-distilleries, exotic meats and a backlash against brunch.
Hot Food Trends for 2011, SACRAMENTO Bee
To name a few: Breakfast pizza, 'humane' foods, food vacations, local sourcing and goat.
2011 Dining Trends in the TWIN CITIES, MetroMix
For starters: Marshmallows, sexy veggies, third wave coffee and artisanal bread.
Pie, Dirt and Pimento Cheese: Food Trends for 2011, HOUSTON Press
Check out more food trend predictions over on our sister blog, Cooking Channel's Devour.
More posts from Jonathan Milder.
Similar Posts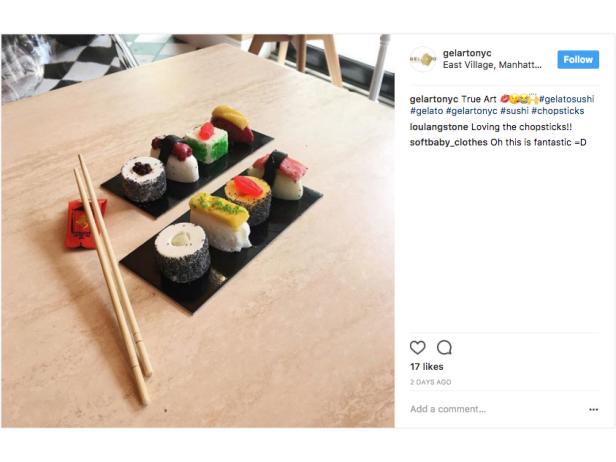 Nothing says summer whimsy like gelato in the shape of pieces of nigiri. ...