The new year brings a fresh start and new challenges — especially in the kitchen. We asked you via Twitter what recipes you wanted to learn to cook this year, and there were a few common themes. Perhaps you've stumbled on some 2011 cooking trends — could 2011 be the year of Pad Thai? Risotto? Here are a few of our favorite tweets, and some recipes to get started on your culinary goals.
Risotto
What you said:
@kitsunehime21 I want to learn to make risotto and bake red velvet cupcakes!
@misslittlepearl I want to perfect my Risotto!
@FunInTheSun03 Risotto!
@jh5900 Risotto!
Who knew risotto would be so popular? Why wouldn't it be — this rich, velvety dish is fancy enough for a dinner party or holiday, but simple enough for a weeknight meal. And it can be made year-round, flavored with seasonal produce, fish, meat — whatever your pleasure. (Oh, and @kitsunehime21, try Paula's Red Velvet Cupcakes!)
What we suggest:
Food Network Magazine's Fontina Risotto With Chicken
Rachael Ray's Butternut Squash Risotto
Giada De Laurentiis's Gorgonzola and Porcini Mushroom Risotto
Giada De Laurentiis's Champagne Risotto
Pad Thai
What you said:

@Mrsjdroberts4, @LCobbies and @hdbernard are all dying to learn to make Pad Thai at home, they each chimed in with a resounding "Pad Thai!"
What we suggest:
Food Network Magazine's Shrimp Pad Thai
Paula Deen's Pad Thai With Pork
Indian
What you said:
@romi_romes Indian food!!
@whitneygrace715 Chana Masala and anything Indian!
Aarti Sequeira's show Aarti Parti, along with her recipes and videos will help you on your Indian food foray. But try these favorites, too:
What we suggest:
Food Network Magazine's Chickpea and Cauliflower Curry
Aarti Sequeira's Baked Samosas With Mint Chutney
Aarti Sequeira's Chickpea and Artichoke Masala
Turkey
What you said:
@NibblesbyNora Not sure it will be this year but long time goal is to learn to cook a turkey!
@GinaZ Turkey!
What we suggest:
Emeril Lagasse's Brined, Herb Roasted Turkey
Alton Brown's Perfect Turkey (video)
Ina Garten's Perfect Roast Turkey
Bobby Flay's Black Pepper-Pomegranate Molasses Turkey
Any other food resolutions out there? What have you resolved to make in the new year?
More posts from Michelle Buffardi.
Similar Posts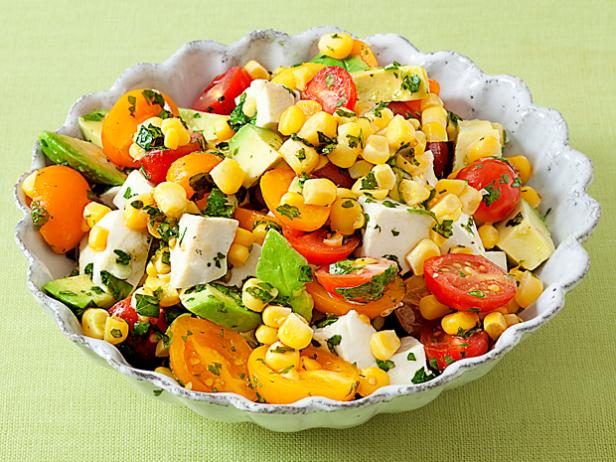 When it's too hot to cook, look no further than these tomato-focused recipes....