This Sunday, munch on Food Network Magazine's NFL-inspired riffs on the classic potato skin.
Four teams are just one win away from the Super Bowl. Sunday's matchups will determine who's going to the big dance in Dallas on February 6, and here on the FN Dish, we're cooking up a potato skin showdown in their honor.
New York Jets: Deli Pastrami Potato Skins
The New York Jewish deli classic, re-imagined as a potato skin. Load up cheesy skins with deli-sliced pastrami, Russian dressing and dill pickle slices and cheer loudly for the J-E-T-S Jets Jets Jets.
Pittsburgh Steelers: Steel City Sausage Potato Skins
Celebrate the Steel City's Polish tradition with these kielbasa and sauerkraut-topped skins. Then wave around your "Terrible Towel."
Chicago Bears: The Works Potato Skins
Pile all the classic Chicago hot dog fixins on a crisp potato skin: Sweet pickle relish, dill pickle spears, pickled peppers, yellow mustard, chopped onion and tomato, celery salt and poppy seeds.
Green Bay Packers: Wisconsin Beer Brats Potato Skins
Sure, Chicago has good hot dogs, but Wisconsin has brats! Here, three Wisconsin favorites team up on one tasty potato skin: Bratwurst, beer and cheese. It's the ultimate Green Bay bite.
If you're mourning your team's absence from the playoffs, you can still celebrate them with regionally inspired snacks. Check out our gallery of Food Network Magazine's potato skins for all 32 NFL teams. Plus, our Big Game Bash package is fully stocked with game day grub.
For more football-watching menu ideas for this Sunday, head to our sister blog, Cooking Channel's Devour.
More posts from Sara Levine.
Similar Posts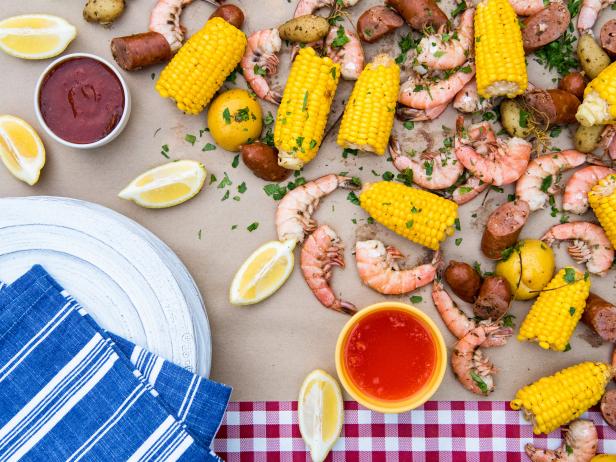 Have friends over — or embrace leftovers — with these Food Network recipes that feed more than four. ...