We're one full week into the new year, and at Food Network, that means that our chefs are ready to show you how to cook up light, healthy and still-flavorful dishes that will have you eating better all year long. (Start now with Cat Cora's Baked "Fried" Chicken, pictured above.)
All day Saturday and Sunday, tune in for a get-healthy block of your favorite cooking shows. Here's a preview of the mouthwatering, better-for-you shows, and a few recipes to tide you over.
Giada At Home: California Light and Healthy
Giada creates a meal that is incredibly fresh and very California, including a light-as-air Chicken and Avocado Napoleon and a citrus-walnut salad.
Tune In: Saturday at 8:30 am EST
Alex's Day Off: Vegetarian Delights
Going meat-free in 2011? Professional chef Alex is here to help, with recipes that are flavorful and filling without meat.  See what's on the menu at Alex's house >>
Tune In: Saturday at 9 am EST
Mexican Made Easy: Healthy Mexican
Forget about fast-food burritos, heavy creams and fried tortillas — in this episode, Marcela will show how traditional Mexican food is unprocessed and healthy. Make her lighter beef tacos for your next fiesta.
Tune In: Saturday at 9:30 am EST
5 Ingredient Fix: Resolutionary
Claire cooks up recipes that have so much flavor, you'll never believe they're low in fat and calories.  She even shows you how to make healthy peanut butter and banana ice cream — yum!
Tune In: Saturday at 10:30 am EST
Paula's Best Dishes: The Lighter Side
Paula's cooking up a feast on the lighter side for her son Bobby, including chicken kabobs and a tropical smoothie!
Tune In: Saturday at 11 am EST
Secrets of a Restaurant Chef: The Secret to Grilled Chicken
Don't fall into a chicken breast rut — get Chef Anne's tips for juicy grilled chicken flavored with Meyer lemon and Dijon mustard.
Tune In: Saturday at 12:30 pm EST
Barefoot Contessa: Herb Story
Nothing turns up the volume more (with very few calories) than cooking than herbs, and Ina's sharing her favorite herbs and how to use them in delicious recipes, like Greek Lamb With a Yogurt-Mint Sauce. Plus, she answers your herb questions!
Tune In: Saturday at 1 pm EST
Giada at Home: Light and Fabulous
Giada's hearty, fresh dishes will make you feel like you've spent a day at the spa, from Broiled Tilapia With a Yogurt-Mustard Sauce to a berry salad and a cantaloupe granita.
Tune In: Sunday at 10 am EST
Cooking for Real: Hungry and Healthy
Healthy eating doesn't mean you should go hungry — that's why Sunny is whipping up this satisfying, lighter meal.  Make her chicken meatballs and collard green pesto pasta tonight!
Tune In: Sunday at 11 am EST
Aarti Party: Veggie Day
2011 is the year of the veggie, and Aarti is celebrating with a hearty, meat-free meal full of warm, comforting Indian spices. Start cooking her Chickpea and Artichoke Masala now.
Tune In: Sunday at 11:30 am EST
Guy's Big Bite: Light and Right Meals
Guy Fieri lightens up with a good-for-you meal that actually tastes great, like Thai This Baked Mahi Mahi that's steamed until moist and flaky with coconut milk, lime, fresh herbs and veggies.
For hundreds more healthy appetizers, weeknight meals, desserts and healthy tips from Bobby, Giada, Alton and more, visit FoodNetwork.com/Health.
More posts from Liz Gray.
Similar Posts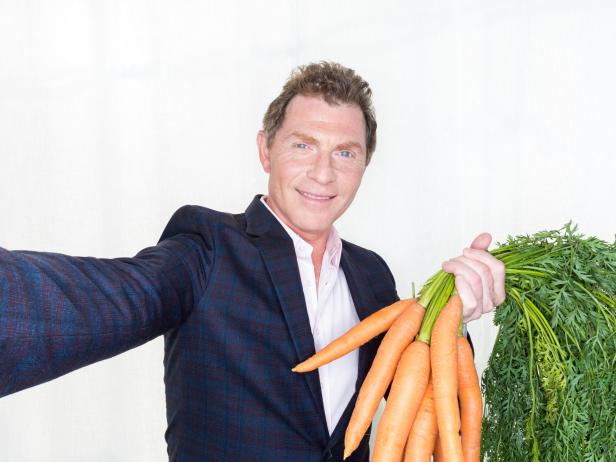 Food Network star Bobby Flay is no stranger to the idea that people want to eat more fruits and vegetables....