Candace and her fellow judges are ready to taste some cupcakes. After lots of hiccups this week, one baker hit his stride.
Cupcake Wars judge Candace Nelson is the founder and pastry chef of Sprinkles Cupcakes, the world's first cupcake bakery. She joins us on the FN Dish each week to recap all the sweet details of the competition from her seat at the judges' table. Here's what she had to say about last night's episode, Tree People.
Wow, this week's Tree People episode tripped a lot of people up! From Sara's broken batter to Stephen's mixed up frostings, there was upset after upset.
Let's start with Tonnie. He was the first to go in round one, but felt very confident that he had the best tasting cupcake. And guess what? He was right! Tonnie's carrot cupcake was delicious, but we couldn't find a single one of the challenge ingredients! And he wasn't alone…no one was immune to the missing flavors. All three of the remaining contestants' cupcakes had no maple flavor!
Once Stephen fixed his frosting mix-up, the judges loved his cupcake offerings.
In challenge two, Stephen impressed us with his avocado frosting but accidentally frosted the wrong cupcake, leaving my apple cake topped with avocado frosting instead of the plantain cupcake it was intended for. Lucky for him, he squeaked by in round two and was able to correct himself in round three where we re-tasted his cupcakes the way they were meant to be and…eureka! Those were some good cupcakes.
Stephen's display ultimately secured his win: "He nailed the Tree People's theme in a beautiful and simple way," says Candace.
Stephen had tough competition in Sara, who, after some frustration with her batter seizing in round one, really found her groove and wowed us with her matcha green cupcake topped with honey cream cheese frosting in round two. Another tight race…but Stephen ultimately brought it home with his display that nailed the Tree People's theme in a beautiful and simple way. Happy New Year and see you next week for some more sweet competition on Cupcake Wars!
Bake up a batch of Stephen's winning Plantain Cupcakes and check out FoodNetwork.com for more about Cupcake Wars, plus dozens of our best cupcake recipes.
More posts from Candace Nelson.
Similar Posts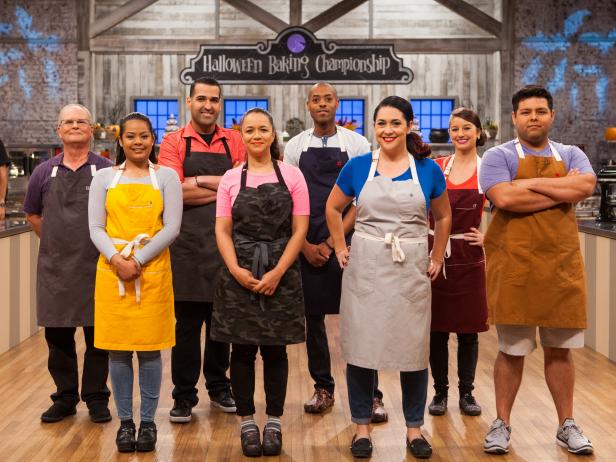 Get the details on the all-new season of Halloween Baking Championship, premiering on Sunday, Sept. 25 at 9|8c....