After slinging Neapolitan-style pies at lunch and dinner for the past couple of months, Donatella Arpaia's eponymously named New York pizzeria rolled out a brunch menu this past weekend.
2010 has been a big year for Donatella—she opened this very personal addition to her restaurant mini-empire, served on the judges' panel for The Next Iron Chef Season 3 and on several episodes of Iron Chef America, and published her first cookbook, Donatella Cooks. We'd be surprised if the lawyer-turned-restaurateur ever sits still long enough for a lazy brunch, but she clearly gets what it's all about. Her sunny pizzeria is perfectly suited for relaxing mid-day repasts and the menu is full of carby comfort.
Take the Hangover Pizza. Donatella's executive chef, Jarett Appell, came up with it when he was making himself some food after a night of, well, too much of the obvious. The blistered crust is topped with breakfast sausage, an egg, and thin, melting slices of cured lardo (pork fat). The whole thing is oozy, decadent, satisfying—a delicious interpretation of the classic breakfast plate. The boss told Jarett to run with it on the brunch menu.
Make "Do-Nutella" French Toast for holiday brunch.
Some brunchers always gravitate to sweet selections over bacon and eggs. For you, there's the "Do-Nutella" (get it?) French Toast, custardy brioche schmeared with a thick spread of Nutella and topped with crunchy toasted hazelnuts.
Most of us don't have an authentic wood-burning pizza oven imported from Italy at home in which to truly replicate the Hangover pie. Fortunately, the easy-to-make french toast is an appropriately over-the-top dish for any holiday brunch, and pastry chef Andrea Jarosh was happy to share her recipe. Who cares if it leans more towards dessert than breakfast? You can always have salad for dinner.
Pastry Chef Andrea Jarosh's Do-Nutella French Toast
Serves 6
Anglaise Custard:
1 quart half and half
5 eggs
1/2 cup light brown sugar
1 vanilla bean, scraped
zest of 1 orange
zest of 1 lemon
1 t ground cinnamon
12 one-inch slices of brioche or challah
Optional toppings:
Whipped cream
Chopped, toasted hazelnuts
Directions:
Whisk all ingredients together for Anglaise.
Soak bread slices in Anglaise until soaked through.
Spray your pan with cooking spray, or place a dab of butter and turn the flame to medium heat.
When a drop of Anglaise sizzles on the pan, place your slices in the pan and cook until golden brown. Flip and cook the other side the same way. If centers are still too runny, you can place the french toast in a preheated oven at 325 degrees F for a couple of minutes.
To Serve:
Drizzle Nutella over one slice of french toast and place another on top. Drizzle with maple syrup and top with whipped cream and chopped hazelnuts, if desired.
For many more holiday brunch ideas, check out FoodNetwork.com/Christmas and our Make-Ahead Brunch Menu.
More posts from Sara Levine.
Similar Posts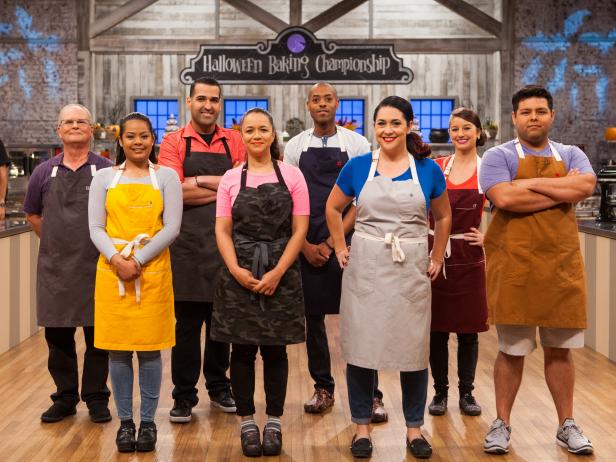 Get the details on the all-new season of Halloween Baking Championship, premiering on Sunday, Sept. 25 at 9|8c....