For the premiere of Cupcake Wars Season Two, Candace loved judging alongside Lash Ferry: "Gift-giver to the stars AND an avid home baker!"
Cupcake Wars judge Candace Nelson is the founder and pastry chef of Sprinkles Cupcakes, the world's first cupcake bakery. She joins us on the FN Dish each week to recap all the sweet details of the competition from her seat at the judges' table. Here's what she had to say about the Season Two premiere, Tree Lighting.
If someone had told me that a gluten-free baker would come within inches of winning a Cupcake Wars this season, I wouldn't have believed it. Having worked with wheat-free flours myself, I know how tricky it is to avoid the gummy, leaden pitfalls of gluten-free baking. But tasting is believing, and Kyra from Crave Bakeshop served up some seriously good cupcakes—gluten-free or not!
Three of Brenda DePonte's winning cupcakes.
However, the win went to Brenda of Sugar Bakery & Sweet Shop, who baked alongside her mom and with a lot of heart all day, and who ultimately dazzled us with a sleek, gorgeous sleigh design that truly belonged at the Hollywood & Highland tree lighting event.
Brenda's sleek and wintry white sleigh display.
Florian and I were initially puzzled by Brenda's cannoli cupcake. Gingerbread, eggnog, sure… but cannoli? They certainly don't scream "holidays" to most people. But Brenda's family is Italian and with her cannoli cupcake she was paying homage to their Italian heritage. Family, food, tradition… now isn't that what the holidays are all about?
Thanks for tuning in to Cupcake Wars Season Two premiere. We have so many more goodies in store for you this season, so keep watching. See you next week at the judges' table!
Check out FoodNetwork.com for more about Cupcake Wars, plus dozens of our best cupcake recipes.
More posts from Candace Nelson.
Similar Posts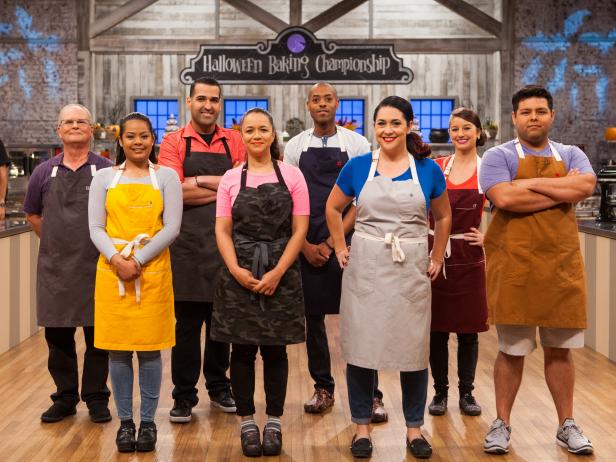 Get the details on the all-new season of Halloween Baking Championship, premiering on Sunday, Sept. 25 at 9|8c....