Cranberry Pomegranate Terrine from FoodNetwork.com
Thanksgiving is the most traveled holiday of the year. Arrive at your destination with your sanity and your culinary contribution intact with these holiday recipes that are easy to pack along.
Dress up your cranberries with Food Network Kitchen's Cranberry Pomegranate Terrine. Two layers of spiced cranberries flank a refreshing ribbon of sweet pomegranate gelatin. After only fifteen minutes of preparation and a few hours in the refrigerator, this side dish will stay put until you are ready to serve it alongside the turkey.  And unlike traditional cranberry sauce, the leftovers slice up neatly for great turkey sandwiches.
Don't settle for ordinary buns when you can bring Sweet Potato Scones from Food2.com. The sweet and savory dough comes together easily and pops out of the oven in under an hour. For a more traditional roll to dunk in your gravy, try Alton Brown's Southern Biscuits.
Savory roasted vegetables are both healthy and won't spill in the car. Food.com's Roasted Cauliflower with 16 Cloves of Garlic combines the nutty texture of cauliflower with creamy roasted garlic and a hint of rosemary. Or, spice things up with Roasted Broccoli with Garlic, Chipotle Peppers and Pine Nuts.
If you're on dessert duty, try Toasted Coconut and Orange Icebox Cookies from CookingChanneltv.com.  Zesty orange and sweet coconut cookies take a dip into melted chocolate for a decadent holiday treat. After they cool in the refrigerator, these can be layered with wax paper and packed until you are ready to go.
For hundreds more ideas, recipes and menus for your feast, check out FoodNetwork.com/Thanksgiving.
More posts from Diane Kolack.
Similar Posts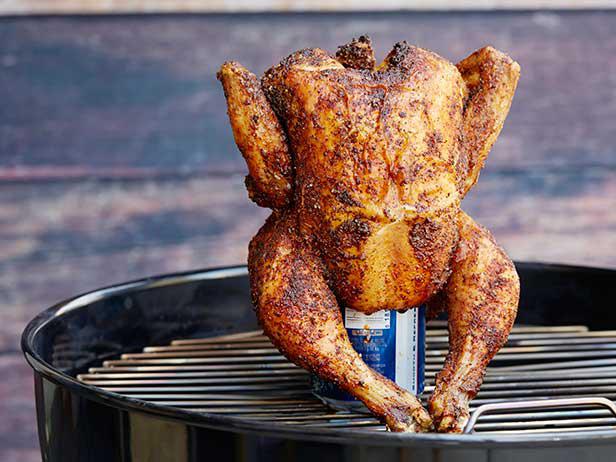 This clever grilling technique is easy enough to perfect even on your first try making it....