Although "his plating could use a few more contemporary touches," Chef Tsai edged Chef Canora into second place this week.
Next Iron Chef judge Simon Majumdar joins us on the FN Dish each week to share his insider's take on what went down Sunday night.
There is only so far that enthusiasm, tenacity and a good spirit will get you in a competition such as The Next Iron Chef. To date, Chef Chauhan had showed those qualities in abundance. She had also shown a great deal of culinary talent. However, as we reached the midway point on the road to selecting a new incumbent for Kitchen Stadium, the gap in technical skill between her and her rivals became more apparent.
The Chairman's challenge, to create an American menu from all four points of the compass, was the toughest yet and the stakes were raised even higher when Alton informed the surviving six that the reward for pleasing the judges was a trip to America's new dining wonderland, Las Vegas. It was obvious, from their expressions, that no one wanted to be the one to miss out on the party.
Iron Chef Jose Garces, stepping in as a guest judge, offered a fresh new view on our competitors. But, even the valid claim that some of his plating could use a few more contemporary touches, did not dissuade me from making Chef Tsai my winner for a second time in the competition. In the end, taste won out and his outstanding array of dishes just pushed the ever-improving Chef Canora into second place.
Chef Forgione, could and possibly should have gone home for sending out a desiccated piece of halibut, that would surely never have been allowed to leave his restaurant kitchen, to the three people who could change his life. The judges were not unanimous, but Chef Chauhan's "Luau in an Avocado Cup" convinced two out of the three of us that this ebullient chef's journey had reached its natural conclusion.
Look inside Chef Chauhan's Next Iron Chef journal and flip through our behind-the-scenes gallery from Episode 5.
More about Simon Majumdar:
Simon's Website
Simon's book, Eat My Globe
Follow @SimonMajumdar on Twitter
More posts from Simon Majumdar.
Similar Posts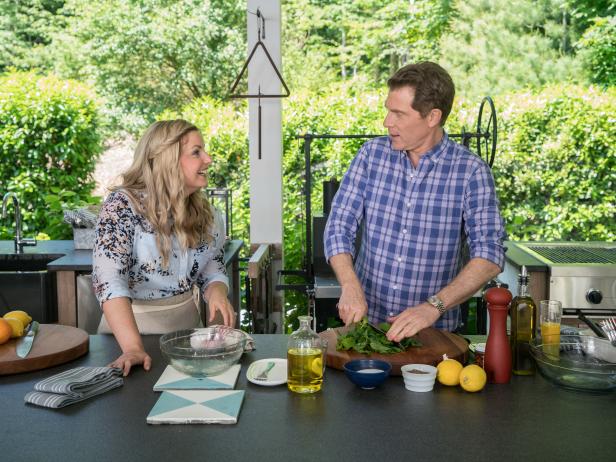 Get the latest details on the all-new series, The Bobby and Damaris Show....