The Michelin Guide, 2011
Highly coveted Michelin Stars for 2011 were recently awarded to a group of amazing New York City restaurants, including the highest three-star rating for Daniel, Le Bernardin, Masa, Per Se, and Jean-Georges. Originally started in France in 1900, the Michelin Guide sets the worldwide restaurant standards. The 2011 Michelin Guides covers U.S. restaurants in New York, San Francisco and, for the first time, Chicago.
The Michelin Guide uses anonymous, professional experts to rate restaurants from no stars to three stars. Of the 715 restaurants rated in New York City, there are only 42 one-star restaurants, 10 two-star restaurants, and 5 three-star restaurants. Worldwide there are only 89 three-star Michelin restaurants! The rarity of acquiring even just one Michelin star is an honor, but also an important asset to a restaurant – Le Bernardin reported a 20 to 25% increase in business after it scored a three-star Michelin. Local reviews and ratings might bring in the local eaters, but the Michelin ratings attract crowds from all around the world.
Check out these recipes on FoodNetwork.com from some of our favorite Michelin-star chefs.

Daniel Boulud, Daniel
Tomato Confit
Tuna Provencale
Tropical Fruit Brulee
Coffee-Cardamom Pots de Creme
Eric Ripert, Le Bernardin
Roasted Cod Spiked with Chorizo, Tomatoes, and Mushrooms
Broiled Shrimp with Garlic Butter
Toasted Sandwiches
Mario Batali, Del Posto
Fettuccine with Oyster Mushrooms, Sweet Garlic, and Arugula
Lamb Calzone
Flourless Chocolate Cake
Veal Meatballs in Broth
Thomas Keller, Per Se
Croque-Madame, Sauce Mornay (Grilled Ham and Cheese Sandwich with a Fried Egg and Mornay Sauce)
Coffee and Doughnuts (Cappuccino Semifreddo with Cinnamon Sugar Doughnuts)
Gazpacho
Jean-Georges Vongerichten, Jean-Georges
Chicken Breasts in Foil with Tomatoes, Olives, and Parmesan
Thai Style Chicken Breasts in Foil
Gordon Ramsay, Gordon Ramsay at The London
Cauliflower and Sorrel Soup
Pumpkin and Pancetta Risotto
Loin of Beef with Watercress Puree
April Bloomfield, Spotted Pig and Breslin
Watch April Cooking
April's Menu
More posts from Kelsey Vala.
Similar Posts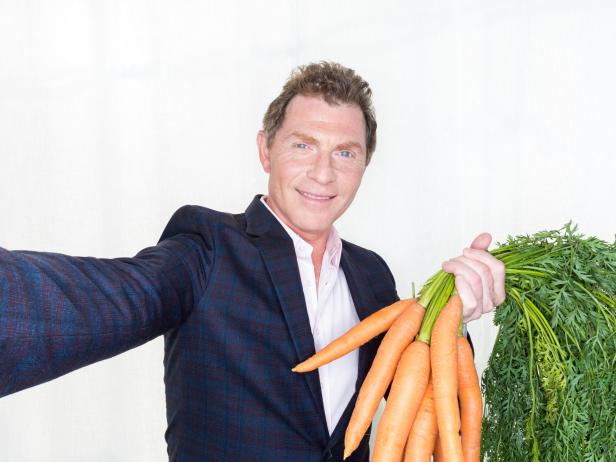 Food Network star Bobby Flay is no stranger to the idea that people want to eat more fruits and vegetables....